A future Labour government would forge closer links with Israel, Ed Miliband pledged in a speech to the annual Labour Friends of Israel (LFI) luncheon in London.
Praising Israel's economic achievements, democracy and hi-tech innovations, the Labour leader also called for a two-state solution, called the building of settlements in the occupied territories "a significant threat to a negotiated agreement" and described ISIS as "a violent and brutal military group posing a threat to the entire region."
Although welcoming the decision by the current UK government to reopen the British Embassy in Tehran, Miliband was "deeply sceptical" about the nature of a regime which "has supplied thousands of missiles to Hamas and Hezbollah which have been used against Israel."
Miliband also mentioned three missing teenagers, Naftali Frenkel, Gilad Shaar, and Eyal Yifrach, two of them Israeli, who were kidnapped by suspected Hamas militants on 12 June. Israeli forces have arrested hundreds of Palestinians in the West Bank but so far the three boys have not been found. A Twitter campaign, #BringBackOurBoys, has now been launched.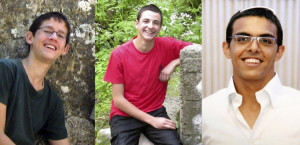 Miliband also talked about his feelings on visiting Israel in April as someone of Jewish heritage, where at the Yad Vashem Museum dedicated to victims of the Holocaust - " the greatest single stain on the conscience of humanity," as Miliband describes it - he was given new information about the death of his grandfather in World War II.
Miliband, who has come under increasing pressure from some sections within his party over his leadership, support for The Sun's World Cup supplement and even the way he eats bacon butties, received a warm response from his LFI hosts and other guests, which included other MPs, several Labour Party donors and Israel's Ambassador to the Court of St. James, Daniel Taub.
However the issue of Israel is contentious within the Labour Party, some of whom are members of the Labour Friends of Palestine. The reaction on Twitter was similarly mixed. Although some welcomed the fact that Miliband had mentioned the occupied territories, Israeli settlements and a two-state solution, others believed he made a mistake by aligning himself so closely with Israel.
"A disappointing speech," said one Twitter user. "Might give you votes but nothing on the apartheidlike system created in the OPT (Occupied Palestinian Territories)".