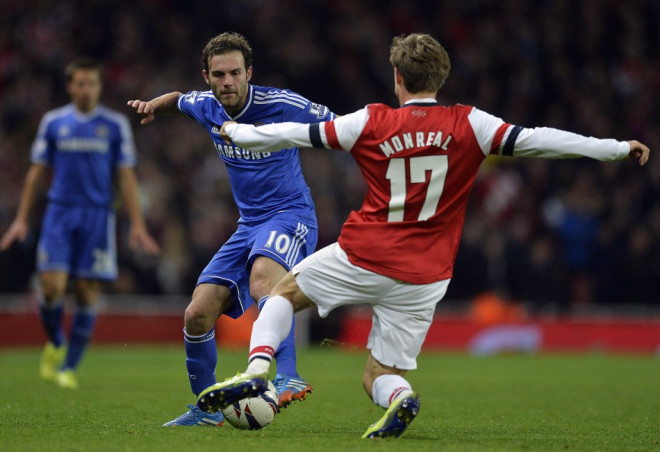 Arsenal left-back Nacho Monreal has revealed that he expected to have more playing time under Arsene Wenger this season, but believes bad luck with injuries and missing pre-season has left him relegated to the bench.
The Spanish international moved to the Emirates in January 2013, after the Gunners paid around £10m to secure his services.
He had excelled at Malaga and also with Spain but has found it difficult to adapt to life in the Premier League.
The Spanish defender has only started 10 Premier League games this season, with Kieran Gibbs ahead of him in Arsene Wenger´s pecking order.
Asked in an interview with AS about his current situation, Monreal said: "I expected to play much more."
"I haven´t had luck with the injuries. I have just now returned from a minor injury in the left feet. I started the pre-season one month late because of the Confederation Cup with Spain and I had some pain in the back. Wenger used Gibbs and Arsenal won and won with him. I played every game in the second-half, but in a more attacking role. Then I regained a starting place and again another injury came..."
Nevertheless, he is enjoying his time in London and has no regrets about his move to the Premier League.
"This is a nice and different experience, another country and another league. I am very happy. I miss La Liga a little bit. I still watch every game, I spent really nice moments at Osasuna and Malaga," he said.
"My best season was at Malaga. We played really well, there was a good environment and also Pellegrini (Manchester City boss), who is a great coach, took the best care of us. I love his football."
Monreal laments Arsenal's bad run of form but hopes to finish the season with a good run-in to secure a top-four position.
"We started the season really well, even though we lost against Aston Villa in the first game. We were leaders, playing great football and we believed in ourselves. But in recent months the situation has changed. We had heavy defeats against Liverpool, City and Chelsea. And also in the Champions League knock-out stage. Now we can only fight to secure the top-four."
Asked about his chances of featuring in the summer world cup, he said: "I will push in the last part of the season to play the most and hope to receive his (Spanish manager Vicente Del Bosque) call."
He also praised his former Osasuna teammate Cesar Azpilicueta, who is currently doing well at Chelsea.
"Azpilicueta is in peak form, he has a lot of confidence in himself even though he is playing in the left side. I am happy for him."