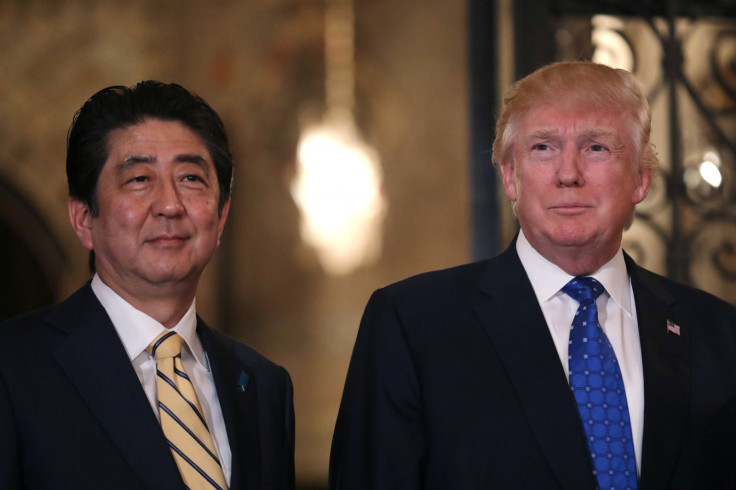 Most Asian stock market indices were trading higher on Monday (13 February), with the Shanghai Composite up 0.57% at 3,214.78 as of 5.33am GMT. Market sentiments got a boost from a smooth meeting over the weekend between US President Donald Trump and Japanese Prime Minister Shinzo Abe.
Contrary to expectations, Trump set aside harsh rhetoric over both jobs and security. He did not talk about Japan stealing American jobs nor did he say anything about the Asian country taking advantage of US defence aid.
A senior Japanese government spokesman said Abe and Trump did not discuss currency issues. He added that Trump did not request a bilateral trade deal and that a US-Japan economic dialogue will instead be led by Japanese Deputy Prime Minister Taro Aso and US Vice President Mike Pence. The official added that the dialogue will in turn address fiscal and monetary policies as well as infrastructure projects and trade between both the two countries.
Yasunobu Katsuki, senior primary analyst at Mizuho Securities, was cited by Reuters as saying: "We can expect a realistic approach as the dialogue will be led by Pence and Aso. It is reassuring that an unpredictable Trump is not in it."
Analysts said this, apart from Trump's recent tax reform plans and change of mind to agree to honour the "one China" policy, had broadly improved investor confidence.
"The global economy seems fairly sound now, compared to last year, as China is supporting its economy through fiscal measures. The downside risk in the US economy is small due to Trump's policies," Masayuki Kichikawa, chief macro strategist at Sumitomo Mitsui Asset Management, said.
The markets also shrugged off North Korea's ballistic missile test.
Indices in the region were trading as follows at 5.50am GMT:
| | | | | |
| --- | --- | --- | --- | --- |
| Country | Index | Price | Up/Down | %Change |
| Hong Kong | Hang Seng Index | 23,677.43 | Up | 0.43% |
| Japan | Nikkei 225 | 19,479.68 | Up | 0.52% |
| South Korea | KOSPI | 2,075.99 | Up | 0.04% |
| India | BSE | 28,327.24 | Down | 0.02% |
| Australia | S&P/ASX 200 | 5,760.70 | Up | 0.70% |
On 10 February, the FTSE 100 index closed 0.40% higher at 7,258.75, while the S&P 500 index closed 0.36% higher at 2,316.10.
Among commodities, oil prices were in the red. As of 12.46am EST, WTI crude oil was down 0.15% at $53.78 (£43.02) a barrel, while Brent crude was trading 0.11% lower at $56.64 a barrel.