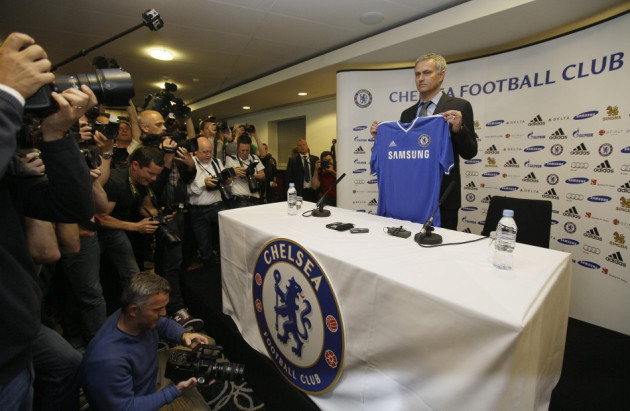 Jose Mourinho's return to Chelsea has been billed as the perfect love story, a marriage made in footballing heaven. Six years on from the most public of fallings out, the 50 year old was unveiled in front of a raft of the world's press but produced a box office performance of a different kind.
If his self-labeling as 'a special one' during his arrival in 2004 set the tone for an enigmatic yet controversially spell in charge, then Mourinho's sequel at Stamford Bridge, amid the early smiles and pleasantries of his second coming, already point towards harmony and accord. Questions firmly remain over how long it will last.
By his own admission, Mourinho's relationship with owner Roman Abramovich had reached impasse prior to his eventual exit in September 2007. "That is not true," Mourinho clarified on Monday.
"I read that I was fired and we had a complete breakdown in relationship; that was not true. Many people didn't believe that but it was a mutual agreement.
"At the time we thought it was the best for both of us, for me and for the club. It was a sad moment, of course it was a sad moment but I don't regret the decision.
"It was a decision that was difficult for both of us but a decision made by mutual agreement. There was never a break of the relationship and that is why it was possible for me to be here today."
From a man whose principals remained strong at FC Porto, Inter Milan and Real Madrid; arguably among the characteristics of his success, the revelation represents not only a massive climb-down from Mourinho, but also a suggestion as to the compromise he has been forced to reach in order to make his return to The Blues workable.
It is a return made possible by the curious decision from both Manchester United and seemingly Manchester City, to overlook Mourinho in their own search for a new manager.
Concerned by among other things, Mourinho's capacity to create friction, the Premier League champions from the past two seasons would have preferred his newfound mellowness. Supporters meanwhile are right to be anxious whether west-London represents his first choice.
"I am where I want to be," he maintained. "I wouldn't change it for anything. It is my job and the job I want and it was the job I was offered and I accepted immediately."
Having spent in excess of £320m during his three terms at Chelsea (£135m in two years at Inter and £157m across three at Madrid) Mourinho rightly possesses a reputation for his reliance on the transfer market.
But short of being coy over summer targets, a nod towards the club's youth system suggests a splurge of spending will not accompany his second coming. Romelu Lukaku, 20 and Kevin de Bruyne, 21, both of whom had season-long loan spells away from Chelsea, will be promoted into the first team next season.
"There is a group of boys that Chelsea did very well to get in these past years to get with great quality, great potential great future and I will be more than happy to work with them and improve them," Mourinho said.
"The most important part of my job at the moment is the improvement of the boys. They have big potential and I think I have the conditions to improve the boys and I'm more than happy to improve them.
"I know the profile and the abilities not only of the team but also the profile of the older people. I have great quality in football terms but also I feel they are very important for the balance and very important for the development of the younger players.
"I think we're all going in the same direction, the owner, the board, me and I believe the players will be more than happy with that stability.
"They [Lukaku and De Bruyne] are the profile of player that Chelsea have invested a lot in the past and I think it is my contribution to extract the best out of the investment. I think both of them are ready to come and are ready to be part of our squad."
At this stage, you'd be forgiven for wondering whether Chelsea have hired Jose Mourinho, or merely an imposter, a fraud, certainly a shadow of his former self. Placid, nevertheless still intriguing, calm yet enthusiastic, seemingly committed, but unconvincing.
There were no swipes at rivals Arsene Wenger, nor David Moyes. Former cohorts Brendan Rodgers, Andre Villas-Boas and Steve Clarke also earned praise.
Those predicting another spectacular falling out with Abramovich might be forced to re-evaluate, but at the same time, screwtiny must attach Mourinho's performance; a charade or a genuine changing of stripes? The cracks at Chelsea have had a habit of looking gaping during the Abramovich era.
"I am the happy one. I have the same nature, I am the same person, I have the same heart and the same kind of emotions related to my passion for football and my job, but of course I am a different person."
If Mourinho's first unveiling was all about answers, then his second leaves plenty of questions. Will his compromised managerial style still produce his very best? Does he remain committed to longevity? Is Chelsea his true coming, or a temporary arrangement? All the makings of a tragic love story.