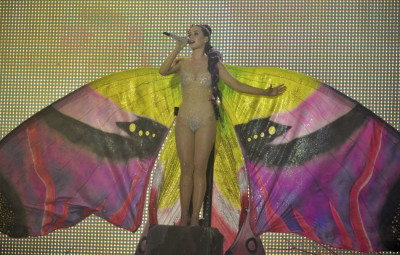 The 2012 Much Music Awards, Canada's biggest celebration of music, saw celebrities dazzle on the red carpet. The event was hosted by Katy Perry and LMFAO, attended by thousands and watched on television by millions. The red carpet appearances for the evening included Selene Gomez, in a micro-mini shimmering gold dress with gold hoop ear rings and strappy gold.
Meanwhile, Gomez' boyfriend Justin Bieber rocked the stage with performances; he wore a red sleeveless leather vest and red leather skinny jeans. He also won the maximum number of awards at the 2012 Much Music Awards and attended the event with his younger half-brother in tow. Bieber won Favourite Artist and International Video of the Year.
"Thank you so much. I want to say thank you so much to my home. I want to say thank you to all my family, my fans, I wouldn't be here without you guys. You guys are amazing, I love you," Bieber said, after receiving his awards.
Singer Katy Perry stole the show with a bizarre butterfly costume. She wore nude stockings inside with a cloak on the outside and bright multi-coloured butterfly wings. She later peeled off the cloak as a sign of marking rebirth, which gave meaning to the lyrics of a song.
The song went like this: "I'm wide awake. I was in the dark, I was falling hard with an open heart. How did I read the stars so wrong? I was dreaming for so long. I wish I knew then what I know now. I wouldn't dive in, I wouldn't bow down. Not losing any sleep, I picked up every piece and landed on my feet. Need nothing to complete myself. I am born again, outta the lion's den. I don't have to pretend. The story's over now, the end."
Nelly Furtado, Kelly Clarkson and Marianas Trench were the other performers for the night.
Click Start to see an array of photographs from the evening of the 2012 Much Music Awards and Katy Perry's butterfly costume