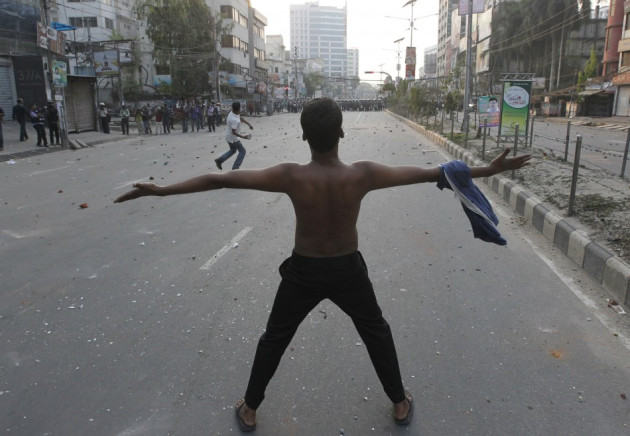 A Bangladeshi community leader who lives in the UK has been convicted of war crimes in Bangladesh, in what critics allege is a politically motivated trial.
Chowdhury Mueen-Uddin, who was involved in establishing the Muslim Council of Britain, was found guilty in absentia and sentenced to death on 11 charges relating to the abduction and killing of 18 independence supporters in the last days of the country's war with Pakistan in 1971.
Prosecutors at the special tribunal in Bangladesh alleged that as a commander of the notorious Al Badr militia, Mueen-Uddin was responsible for the deaths of academics, physicians and lawyers before fleeing abroad when pro-independence forces gained control of the country.
New York resident Ashrafuzzaman Khan was also found guilty of the charges.
The tribunal has now convicted 10 people, most of them leaders of Jamaat-e-Islami, the country's largest Islamic party. Seven have been sentenced to death by hanging, another eight are currently on trial.
Critics claim the trials are being used by the secular government to persecute the opposition.
On first learning he was to be charged, Mueen-Uddin said in a statement: "Getting involved in crimes is not what I have taken part in any way, shape or form."
His lawyer, Toby Cadman, said on Sunday: "The trial process has been shown to be nothing short of a political show trial.
'"I am not at all surprised by the verdict that has been passed today by an institution that has lost all credibility. We reject each and every charge levelled against Mr Mueen-Uddin."
Rights groups including the New York based Human Rights Watch have criticised the way the trials are being conducted as unfair.
Tribunal appointed lawyers for Mueen-Uddin failed to call a single defence witness to the stand during the trial.
Protests have erupted across the country since the verdicts started being returned in January, with 150 people having been killed so far.
The UK Foreign Office will not confirm whether it has received a request for Mueen-Uddin to be extradited to Bangladesh.