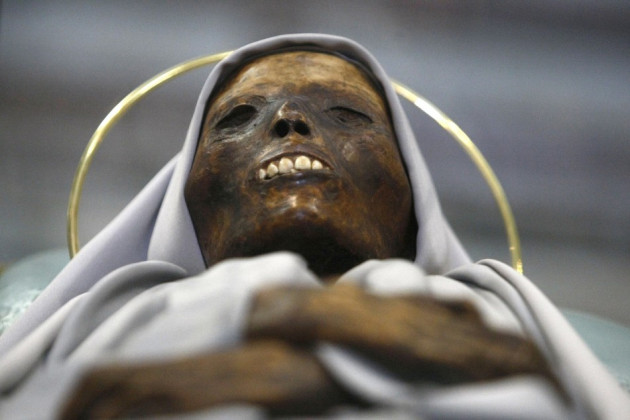 Police in Italy are attempting to establish if an Italian woman mummified her friend and set up a shrine around the preserved corpse alone, or was helped by others who worshipped the dead "holy woman".
On October 24, the body of Graziella Giraudo was found in a house in Borgo San Dalmazzo, a small town in Piedemont, northern Italy.
Known as a "holy woman" by locals, she would tell their fortunes in exchange for eggs, chickens and vegetables, and also acted as a healer.
The body of the woman, who would now be 68, had been mummified, and was found seated upright, with one hand in her lap and another raised as if in benediction, a linen sheet draped over the knees.
Italian media reports that the features were still recognisable, and the skin the colour and texture of leather.
"We cannot exclude the possibility that she was venerated" after death, local prosecutor Massimiliano Bolla was quoted as saying in La Stampa.
For years, Graziella had lived with Rosalba Giraudo, who was not a blood relation, but with whom she coincidentally shared a name.
The daughter of Graziella and the son of Rosalba are married, and they said they only discovered the body behind a locked door when they were clearing out the house following Rosa's death.
Despite living close by and visiting the house most days, they claim they knew nothing about the mummified body, and assumed that Graziella had left town or did want to see them.
The locked room in which it was discovered smelled of cambric and flowers, said investigators The coroner has confirmed that the body was naturally preserved, and the internal organs were still intact. They believe that Graziella had been deceased for a number of years.
Neighbours said they had last seen Graziella in about 1995, and investigators are puzzling over why, despite being a well-known figure in the community, no-one inquired after her following her disappearance.
Police have established that Rosalba did not collect any pension or benefits owed to Graziella.
"They are living a nightmare. I believe that this is a story originated from the cultural and religious, from a fixation misplaced," said Adalberto Pasi, the children's lawyer, who claims that Rosa acted alone to preserve the body of her friend.