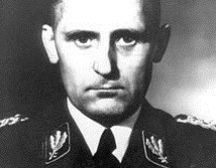 One of the architects of the extermination of Jews during the Holocaust was buried in a Jewish cemetery, according to startling claims by a respected historian.
The chief of the Nazi Gestapo police, Heinrich Müller, was interred in a Jewish cemetery in Berlin in 1945, according to German daily Bild.
Müller disappeared after the Second World War and his fate was one of the unsolved mysteries surrounding the Third Reich officials after the fall of Nazism.
Historian Professor Johannes Tuchel, who is also director of the German Resistance Memorial Centre, made the Jewish cemetery claim.
"Müller did not survive the end of the war. His body was buried in 1945 in a mass grave in the Berlin-Mitte Jewish cemetery," he told Bild.
Citing archive documents, Tuchel dismissed the popular belief that Müller fled Germany after the war. The German secret services (BND) reported that in summer 1949 Müller was in Karlovy Vary, in then Czechoslovakia.
But the historian said that the body of Müller had been found in August 1945 by Allied forces in a temporary tomb near the site of the Third Reich's Ministry of Aviation.
"He was wearing a general's uniform. In the inside left pocket was found his service status and a picture," Tuchel said.
Bild also published an official document by authorities for Berlin's Mitte district stating that Müller was buried in its Jewish cemetery.
Dieter Graumann, president of the Central Council of German Jews, said he was "shocked" by Tuchel's claim.
Müller was responsible for the logistics behind the Final Solution to exterminate all Jews. He took part at the Wannsee Conference in January 1942.
Adolf Eichmann, who headed the Gestapo's office of resettlement and the Office of Jewish Affairs, was Müller's immediate subordinate.
Once World War II began, Müller and Eichmann planned key components in the deportation and then extermination of Europe's Jews.