More than 1,200 houses in villages inhabited by the Rohingya Muslim minority have been destroyed in Myanmar, also known as Burma, a rights group has claimed.
Earlier this month, Human Rights Watch (HRW) released images of 430 destroyed buildings in three villages in the Rakhine state along the border with Bangladesh.
New satellite images released on 21 November show the destruction of an additional 820 houses in five Rohingya villages in Rakhine, bringing the number of destroyed buildings to 1,250.
The raids began earlier in November after government troops were deployed to Rohingya villages following a series of coordinated and deadly attacks on police border posts, which the government blamed on sympathisers of the minority Rohingya.
"These alarming new satellite images confirm that the destruction in Rohingya villages is far greater and in more places than the government has admitted," HRW's Asia director Brad Adams, was quoted by news agency AP as saying.
"Instead of responding with military-era style accusations and denials, the government should simply look at the facts and take action to protect all people in Burma, whatever their religion or ethnicity," he continued.
The 1.3 million Rohingya in Myanmar are regarded as stateless people and unwelcome migrants from Bangladesh and live in segregated conditions in Rakhine. They have been dubbed by the United Nations one of the world's most persecuted ethnic minorities.
HRW is calling for a UN-assisted investigation on the raids carried out by government forces, also accused of carrying out extrajudicial killings.
Up to 30,000 people have been displaced by recent violence, according to the UN, with hundreds of people fleeing to neighbouring Bangladesh to escape persecution.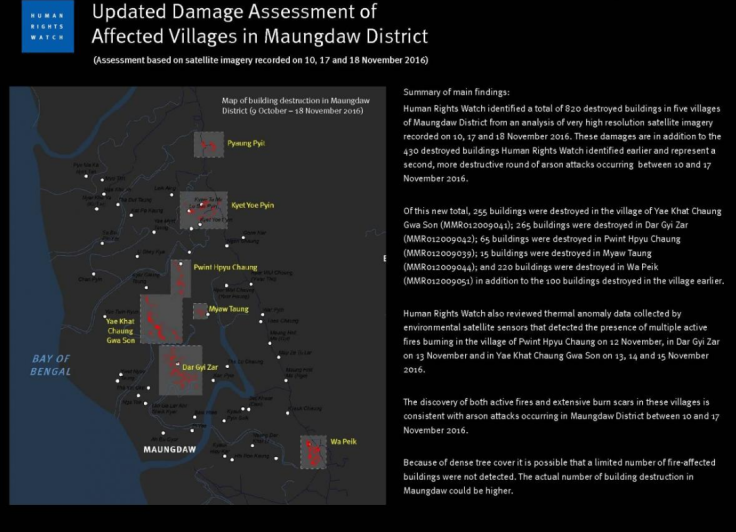 Myanmar's new administration, led by Nobel Peace Prize winner Aung San Suu Kyi, has dismissed the allegations and accused international media of misreporting the situation in Rakhine.
Following the release of the first round of images, the president's spokesman, Zaw Hitay, accused HRW of exaggerating the figures of destroyed buildings, with the government claiming fewer than 300 houses had been destroyed.
State media reports claimed security forces killed about 70 people and arrested another 400, but activists say the numbers could be much higher.