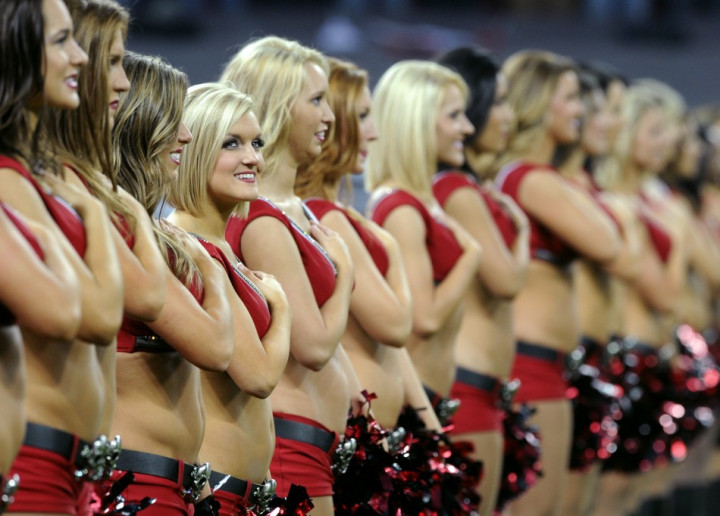 Cheerleaders are as much a part of the NFL as the men wearing body armour on the pitch, yet the women on the touchline are in revolt over pay and conditions.
Cheerleaders at NFL team the Oakland Raiders, in California, have filed a lawsuit alleging degrading treatment they have suffered, including being "groped by inebriated men," enduring "degrading comments," having to don skimpy costumes in public and suffering under a punishing weight-management regime.
Now the 'Raiderettes' are taking on the National Football League (NFL) with a lawsuit lodged at a California court in a bid to win improvements in pay, overtime and expenses.
Presently, cheerleaders earn less than £100 ($160) a match, According to IBTimes.com that adds up to $3 below California's minimum wage, after rehearsals and promotional events are factored in.
Surprisingly, male cheerleaders can earn more than their female counterparts.
In a statement, a former Raiderette alleged the pay and conditions she and her fellow cheerleaders were "not legal."
"I loved being a Raiderette and being able to cheerlead for my favorite NFL team, the Oakland Raiders," said Caitlin Y in a statement. "But the conditions I had to endure were not fair, nor were they legal," the woman said.
Around 3.6m women cheerlead across the United States and are a key paor of any gridiron game. Yet Catlin alleged the reality of cheerleading is far from glamorous, featuring "gruelling working conditions" which saw women sent home. for failing to meet tough weight requirements.
Training and preparation can take up to 10 hours a day. Meanwhile, a study by found that 65% of sports injuries suffered by women under 25 in America is related to cheerleading.
An NFL spokesman told IBTimes.com: "The clubs determine if they want to have cheerleaders and their role. The league has no role in their selection, duties, hours or wages."
It is not the first the Oakload Raiders cheerleaders have turned activist, after they went on strike earlier this year over alleged "wage theft."