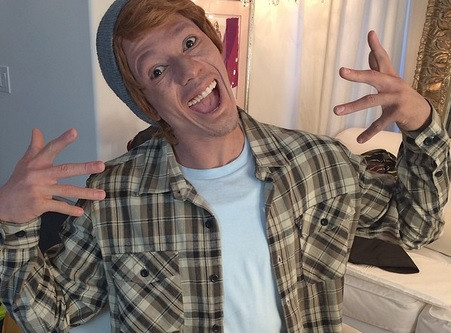 Nick Cannon has defended appearing on TV as his white alter ego, Connor Smallnut, after fans compared the stunt to the racially charged "blackface".
The America's Got Talent found himself embroiled in a race row following his guest appearance on Late Night with Seth Meyers to promote his new album, White People Party Music.
For the show he altered his skin with make-up and donned glasses and a checked shirt. He later posted videos and on his Instragram showing himself conforming to various white stereotypes.
But some fans were not amused and accused him of promoting double standards of racism through humour.
"If it is racist for a white to portray a black then it is racist for a black to portray a white," one critic said.
"So I assume Nick Cannon would not get his nose out of joint if some white comedian did blackface and dropped the N-word all through his stand-up routine."
The 33-year-old star insisted on Good Morning America that he intended to highlight the issues surrounding racism rather than cause offence.
"It's funny they're using this term 'whiteface'. I don't really know what that is," Cannon said.
"I know 'blackface' was a term that was created in 1869 to describe offensive minstrel shows. Whiteface, if you look it up and Google it, is a ski slope in upstate New York. I was doing a character impression; blackface is about oppression.
"This is to have fun and put it out there that yes, we have issues in this country, in this world, but it doesn't have to be with hatred. There's a big difference between humour and hatred."
Cannon, who is married to Mariah Carey, shrugged off the backlash.
"It reminds me of my kids. When one gets away with something, they point: 'why does he get to do that?' It's not that big of a deal."