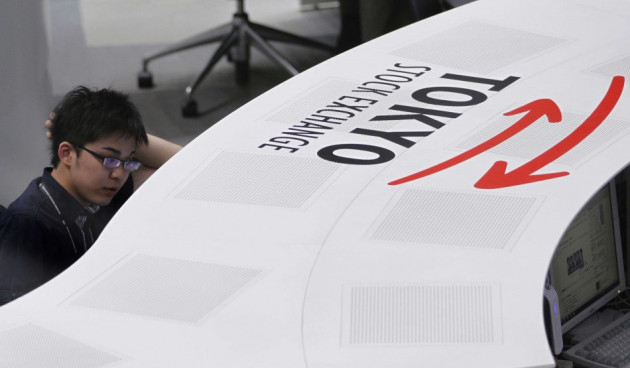 The Nikkei ended lower by 0.83 percent or 73.65 points at 8796.51 following reports of weak business sentiments from the Bank of Japan and falling manufacturing activity in China.
Electrical insulators maker NGK Insulators which fell 10.37 percent and personal care products manufacturer Shiseido, down 5.70 percent ,were the major losers.
India's Bombay Stock Exchange gained 0.38 percent or 71.68 points at 18834.42 at 10:23 GMT ahead of a public holiday in the country. Automobile major Tata Motors, up 2.67 percent, and software firm Infosys, higher by 2.58 percent, were the major gainers.
Market activity was subdued in Asia as the Chinese and Hong Kong stock exchanges were closed for the mid-autumn festival. The South Korean exchange also remained shut for Korean Thanksgiving day celebrations.
The Bank of Japan's Tankan survey showed that the country's large manufacturers remained pessimistic about business prospects in the three months ending September, discouraging the markets. Slowing global demand continues to affect the country's export driven economy.
Shares of shipping firm Nippon Yusen fell 0.72 percent in Tokyo after the company cut its first half-yearly operating profit expectations by 18 percent, citing tough business conditions.
Daido Steel also had also cut its operating profit forecast by 36 percent on weak steel exports, sending the shares down 5.79 percent.
Hokuetsu Kishu Paper was the major gainer, up by 8.01 percent. Utility firms were up after Electric Power Development (J-Power) announced plans to restart the construction of Ohma nuclear power plant, which was suspended following the accident at Fukushima in 2011.The company shares gained 5.94 percent.
Other utility majors Tohoku Electric Power climbed 6.53 percent while Hokkaido Electric Power and Shikoku Electric Power rose 5.84 and 6.24 percent respectively. Kansai Electric Power was up 5.08 percent as well.
Meanwhile, China's National Bureau of Statistics said that the country's manufacturing purchasing managers index contracted for the second month in September, although showing a slight improvement from August.
"Further contraction in Chinese factory output weighed heavily on the Asian markets that were open for business today," said Jason Hughes, Head of Premium Client Management at IG Markets.
Tensions between China and Japan continue to affect market sentiments in Tokyo as fears of the dispute affecting the economic relations between the two countries increase.
Traders also remain wary of the situation in Europe as the continent struggles to come out of the debt crisis.