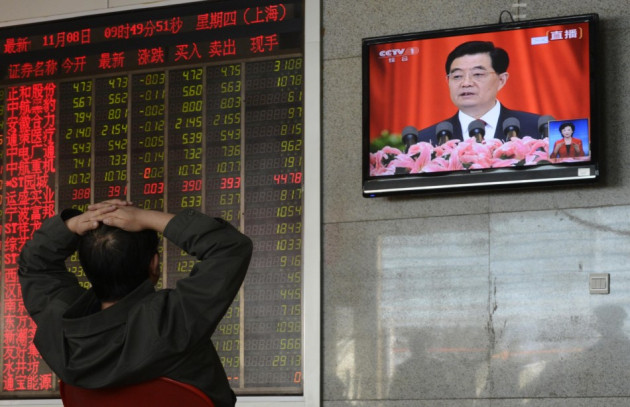 Asian markets have extended their losses to end the week in the red as investors remain concerned on US fiscal issues and the eurozone crisis, even though the Chinese economy showed signs of improvement.
Japan's Nikkei ended 0.90 percent or 79.55 points lower to 8757.60 while South Korea's KOSPI was down 0.52 percent or 10.00 points to 1904.41.
Hong Kong's Hang Seng dropped 0.85 percent or 182.53 points to 21384.38. China's Shanghai Composite Index fell 0.12 percent or 2.44 points to 2069.07.
India's Bombay Stock Exchange Sensex traded 0.90 percent or 168.68 points lower to 18677.58 at 09:07 GMT.
Concerns on the US economy continued to weigh heavily on market sentiments as investors took stock of the economic issues that confront the re-elected Barack Obama. Reports say that Obama will make a public statement later in the day on the measures required to boost the economy and reduce deficit.
On the eurozone front, Greek crises continued. Although the country had passed a fresh set of austerity measures in its parliament, its MPs have to vote on a revised budget that accommodates the cuts before eurozone ministers meet next week.
The scale of public protests against the Greek government's plans has also cast doubts on the administration's ability to continue reforms that will aid the economy.
Meanwhile, economic indicators from China provided momentary relief to traders. The country's consumer price inflation data released earlier in the day showed that inflation had eased year-on-year, giving room for the People's Bank of China to introduce further monetary easing measures.
Separate data also showed that China's industrial production and retail sales gained more than expected in October, adding to hopes that the economy will pick up in the final quarter of the fiscal year.
Major Movers
Exporters extended their losses in Tokyo on concerns of a strong yen. Technology major Fujitsu was down 3.21 percent while Casio fell 1.76 percent. Shares of Sony ended 0.90 percent lower.
Some of the major pharmaceutical firms fell in Seoul. Shares of Daewon Pharmaceutical were down 14.66 percent while those of Schnell Biopharmaceuticals and Bukwang Pharmaceutical dropped 9.38 and 9.09 percent.
Aluminum Corp of China, down 3.51 percent, and Li & Fung, down 3.43 percent, were the major losers in Hong Kong.
Financial firm AnXin Trust & Investment and property developer Hainan Island Construction performed worst in Shanghai, dropping 7.85 and 5.63 percent.
Banks traded lower in India. Shares of State Bank of India slipped 3.54 percent while those of ICICI Bank fell 1.64 percent. HDFC Bank was down 0.04 percent.