Sanctions and the worst drought for almost 20 years continue to cause hardship for millions of North Koreans, while the country's leaders press ahead with its nuclear programme.
Japanese documentary maker Jiro Ishimaru, who runs a network of citizen journalists inside North Korea, said ordinary North Koreans face a daily struggle to eat, with the majority of food going to the nation's million-strong army.
"For one thing, there are too many soldiers to feed," Ishimaru told the Guardian.
He added that even in the army food is creamed off for elite officers.
He said: "Corruption is rife, so that by the time senior military officers have taken their share of food provisions to sell for profit on the private market, there is next to nothing left for ordinary soldiers."
Conditions look set to worsen for the country's 25 million population after state-media announced this week that leader Kim Jong Un has ordered increased production of key missile parts.
Following a tour of a chemical plant, Kim is reported to have "instructed the institute to produce more solid-fuel rocket engines and rocket warhead tips," said local broadcaster KCNA.
The move comes amid a period of intense brinkmanship between Kim and US President Donald Trump as they trade threats over the secretive police state's missile testing programme.
"In an ordinary country there would be riots over the food shortages, but not in North Korea," said Ishimaru.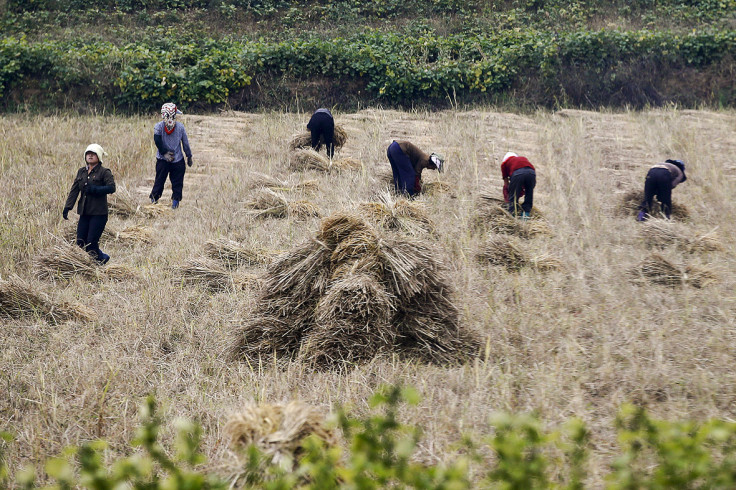 The UN Food and Agriculture Organisation said in a special alert last month it estimated North Korea's early-season crop production was down almost a third compared to the same period a year ago.
It said Pyongyang faced severe food shortages due to the worst drought since 2001, affecting such staple crops as rice, maize, potatoes and soybeans.
The report said: "More rains are urgently needed to avoid significant decreases in the main 2017 cereal production season. Should drought conditions persist, the food security situation is likely to further deteriorate."
In the meantime beefed up UN sanctions passed earlier this month aimed at slashing North Korea's $3bn (£2.3bn) annual export revenue by a third - through cutting back on its trade in basic commodities and seafood - are set to hit ordinary Koreans ranging from workers at its large Musan iron ore mine, in the north-east, to local fishermen, scattered along the nation's coastline.