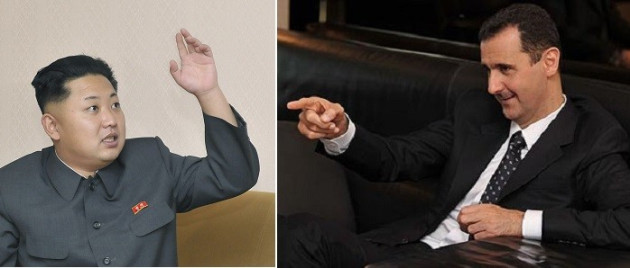 It might be assumed that embattled Syrian president Bashar al-Assad has his hands full fighting rebel forces in his country's bloody civil war, but it has emerged Assad has time to exchange pleasantries with fellow dictator Kim Jong-un.
The Syrian leader and his counterpart in North Korea have being exchanging diplomatic niceties, while war rages all around Assad - and Kim continues to tighten his grip on power in the Hermit Kingdom.
The regime's mouthpiece media organisation, The Korean Central News Agency (KCNA) revealed Assad has wished long life and good health on Kim, 30, in return for the North Korean ruler congratulating his family on 43 years in power.
According to the KCNA, Assad also told North Korea he wanted to strengthen ties between the two countries - which could be a tell-tale sign of how short of friends Assad is on the international stage right now.
In a statement it said: "The president in the message expressed heartfelt thanks to Kim Jong-un, the government and friendly people of the DPRK for sending felicitations on the occasion of the 43rd anniversary of the corrective movement in Syria and hoped that Kim Jong-un would always enjoy good health and his people achieve greater progress and prosperity.
"The message expressed belief that the friendly and cooperative relations between the two countries would continue to grow stronger thanks to the common efforts of the two peoples for their interests."
This bond is not actually very unusual because the pair of dictators reallly have plenty in common, in addition to each of them having inherited their position and being dependent upon a system of absolute rule to maintain it.
Both are also leaders of regimes which are inspired by socialism. This explains the warm greetings from Kim, who is better known in the West for making bloodcurdling denunciations of capitalist democracies.
Both men head up national socialist governments which were founded by their ancestors.
Kim's grandfather Kim Il Sung founded the Worker's Party of Korea based on Marxist-Leninist principles. Meanwhile, Assad's father won power via a coup in Syria in 1970 - the "corrective movement" hailed by Kim in his communication with Bashar.
Bashar is the leader of the Baath party, an Arabic socialist movement founded by Syrian teacher Michel Aflaq in 1947 - the year Kim's grandfather became president of North Korea.