'Offensive' Django Unchained Slave Toys Discontinued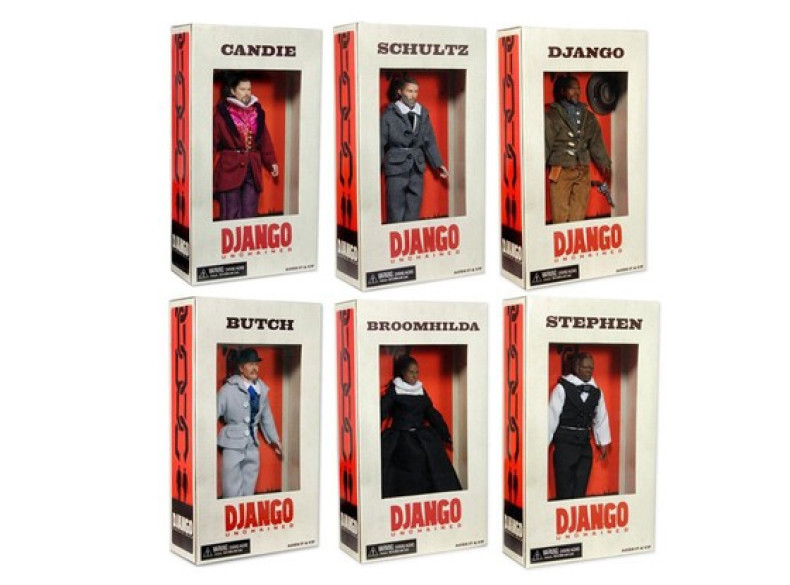 Controversial Django Unchained dolls have officially been discontinued by toymakers, it has been claimed.
Production of the figurines, launched to coincide with the release of Quentin Tarantino's slavery film, ceased after several African American groups called for a boycott of the dolls, TMZ reported.
Advocacy groups, including Al Sharpton's National Action Network and Project Islamic Hope, spoke out in protest at the dolls which were modelled on characters in the film.
"Tarantino and [producers] Weinstein didn't have action figures for their movie Inglourious Basterds because they know the Jewish community would never allow it, and the African-American community shouldn't allow anyone to disrespect our ancestors," said Najee Ali, director of the Los Angeles civil rights group Project Islamic Hope.
National Entertainment Collectibles Assocation (Neca), the toy company that produced the dolls in collaboration with the Weinstein Company, was said by TMZ and media sources to have halted the venture as a result of the backlash.
Neca's Joel Weinshanker previously said the company was "very excited to bring the stellar cast of Django to life and honoured to be working with another Tarantino masterpiece"
The dolls, intended as collectibles for adults rather than toys for children, depict Django, the freed slave played by Jamie Foxx, Broomhilda, his wife, played by Kerry Washington, and Stephen, another slave, played by Samuel L Jackson.
The remaining dolls in the series are of white characters and include plantation owner Calvin Candie (Leonardo DiCaprio), a bounty hunter called Schultz (Christoph Waltz), and Butch (James Remar).
According to TMZ, only 100 dolls were sold before production was shut down.
Django Unchained, on general release in the UK, tells the story of a bounty hunter who frees a slave and partners up with him to liberate his wife from the hands of a fearsome plantation owner.