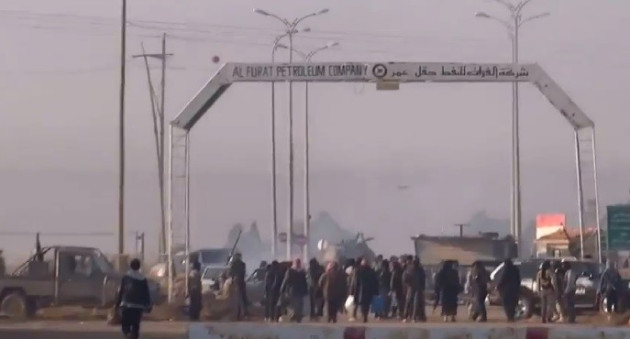 Islamist rebels are reported to have seized Syria's largest oil field, cutting off president Bashar al-Assad's access to the country's reserves.
If confirmed, the capture of the al-Omar oil field in the eastern Deir al-Zor province would leave the Syrian government highly dependent on foreign oil to fuel the tanks, vehicles and planes on which their military superiority depends.
Footage on YouTube shows rebels wearing black head scarves and fatigues under a sign that reads "Euphrates Oil Company - al-Omar field". In the film, one claims the field was taken early on Saturday morning. The footage could not be independently verified.
"Now, nearly all of Syria's usable oil reserves are in the hands of the Nusra Front and other Islamist units... The regime's neck is now in Nusra's hands," said Rami Abdelrahman, head of the pro-opposition Syrian Observatory for Human Rights.
Pipelines were reportedly still operational and transporting crude oil to the Assad-controlled central region of Syria immediately before the field was captured.
Rebels now control most oil fields in the province, which is one of Syria's two main centres of oil production. In February, they seized the Jbeysa oil field after three days of heavy fighting. In 2012, they briefly took al-Omar, before it was retaken by government troops.
However, they have so far been unable to profit from the fields, as the country's refineries are still under the control of government forces and the rebels are vulnerable to attack from the air.
Before sanctions enforced by the EU in 2011 against Assad's regime, oil revenues had formed about a quarter of the country's income, with almost 370,000 barrels per day being exported, mainly to Europe.
Now, the Assad regime is reliant on imports, with the majority reportedly coming from oil giant Iran, Syria's closest regional ally.
Kurdish militias and tribes who have seized control of other oil fields are also believed to be selling oil to the Assad regime.
In the northern province of Aleppo on Saturday, army air strikes killed at least 40 people and wounded dozens, most of them civilians, the Syrian Observatory said.
Foreign powers are attempting to arrange peace talks between the warring parties in mid-December, but none has so far agreed on terms for the talks.
Watch the rebels claim control of al-Omar on the YouTube video below: