Things have taken a turn for the worse in the crossover-enchanted world. There's trouble brewing between the favourite fairy tale couple, Snow White (Ginnifer Goodwin) and Prince Charming (Josh Dallas). The fate of Neverland may rest in Henry's hands and Rumplestiltskin (Robert Carlyle) might just give everything up to relive a better childhood.
Dark Hollow Recap
In the last episode, Dark Hollow, Ariel (Joanna García Swisher) makes her way to Storybrooke after being sent by Mr. Gold and Regina (Lana Parrilla) to warn Belle (Emilie De Ravin) and the townspeople of the impending danger coming from Peter Pan (Robbie Kay).
Meanwhile, Emma (Jennifer Morrison), Hook (Colin O'Donoghue), and Neal (Michael Raymond-James) attempt to capture Pan's shadow from a place known as the Dark Hollow.
Charming and Snow have been put into quite the predicament now that David is cursed with the remaining in Neverland. Spoilers reveal that we will get firsthand knowledge of the aftermath of Regina's post nuptial appearance.
"If they can find a way to get Charming off the island without killing him, yes. But first, we'll get another look into Snow and Charming's past, specifically the day of their wedding after Regina threatened something dastardly in store — the curse! "We're going to open up right after they get married," Josh Dallas stated in a Spoilers Guide report.
"Snow wants to get back at Regina for destroying her wedding basically. Charming just wants to go on the honeymoon. He just thinks it's a threat coming from Regina, that's all it is at the moment."
Fate of Neverland May be Determined in Next Episode
In the next episode, titled Think Lovely Thoughts, Pan leads Henry to a secret cave, where he has convinced the boy that he alone can save magic and Neverland itself.
But a showdown between good and evil is about to go down as Emma, Mary Margaret, David, Regina, Mr. Gold and Hook find themselves directly on a path to Pan in an effort to save Henry.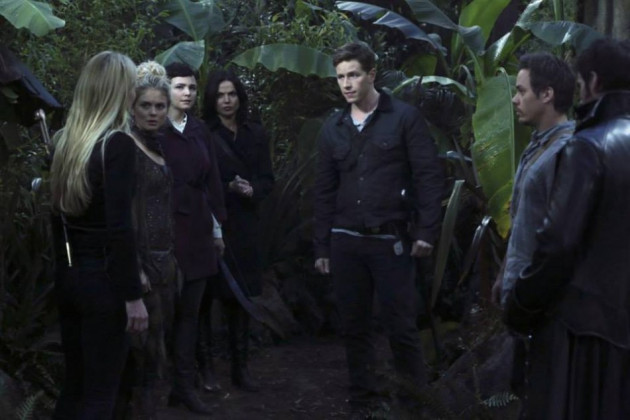 Meanwhile, back in the Fairy Tale Land that was, young Rumplestiltskin is given a magical item that could help him make a fresh start with his father, who has been anything but a good dad.