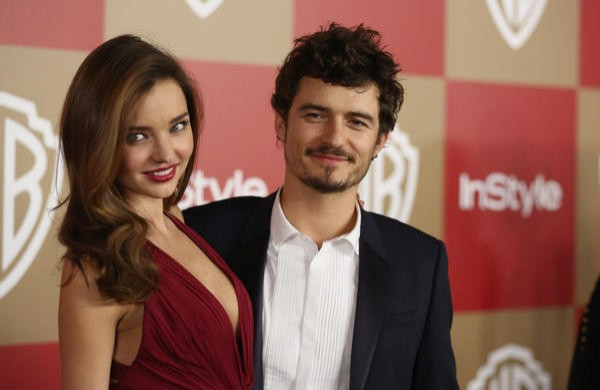 Orlando Bloom has reportedly been miserable since his split with Australian supermodel Miranda Kerr.
The Pirates of the Caribbean star and Kerr shocked everyone when they said they have split after six years of marriage.
According to Heat magazine, the 36-year-old actor gave tips to close friend Justin Theroux on how to handle his relationship with Jennifer Aniston.
"During a boy's night out, which fell on Jen's birthday, Orlando kept telling Justin that he should be with Jen, rather than his friends," a source told the publication, as quoted by the Belfast Telegraph. "Justin couldn't really respond to that and seemed a bit guilty about his behaviour."
Recently it was reported that Aniston and Theroux who announced their engagement in August 2012 after dating for 15 months, have no plans to get married soon as she is feeling ''extremely insecure'' about their future together.
"Orlando warned him not to make the same mistakes that he did with his ex-wife Miranda Kerr and begged him to stop being so stubborn and acting so distant with the woman he was supposed to marry," the insider claimed.
"He told Justin that he would bitterly regret it if he didn't fight for Jen, saying that he'd been lonely and miserable since his split from Miranda. Orlando made Justin realise just how important Jen is to him."
Meanwhile, Kerr has moved on in her love life and reports emerged that the Victoria's Secret beauty is dating Australian billionaire James Parker. Parker, who is Australia's richest man with a net worth of $7.7bn, recently confirmed that he had ended his six-year marriage with his model wife, Erica Baxter.