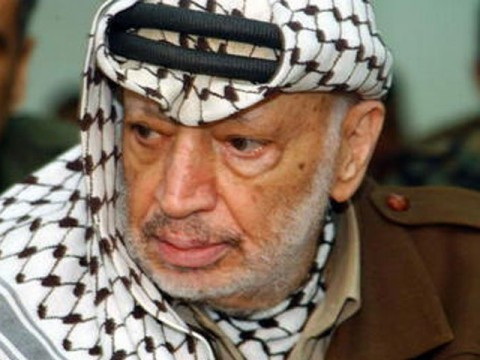 The Palestinian Authority has called for an international probe into the death of its leader Yasser Arafat, AP has reported.
The call for an investigation follows lab test results that indicated that Arafat was poisoned by radioactive polonium in 2004.
His widow will ask for his body to be exhumed to perform more extensive tests.
Test performed by a laboratory in Switzerland found significant traces of polonium-210 on Arafat's clothes and personal belongings.
The same substance was used to kill former Russian KGB agent turned dissident Alexander Litvinenko, who died in 2006 in London after drinking tea laced with the radioactive substance.
Claims that Arafat was assassinated surfaced soon after his death, with many pointing the finger at Israel's spy agency Mossad.
20 times lethal dose
Scientists at the Institute of Radiophysics at the University of Lausanne performed the tests on belongings that were given to his widow Suha by the military hospital in Paris, where he died, Francois Bochud, the head of the institute, told Al Jazeera.
Arafat's wife allowed Al Jazeera to take his effects to Switzerland for testing.
A urine stain showed a level of 180 millibecquerels of polonium-210, more than 20 times the dose needed to kill an average human being.
"I can confirm that we measured an unexplained, elevated amount of unsupported polonium-210 in the belongings of Mr Arafat that contained stains of biological fluids," Bochud said.
Eight years after the Palestinian leader died it remains unclear exactly what caused his death. Cirrhosis of the liver, cancer, and Aids have been suggested as the cause of death in the past - but doctors in Lausanne ruled them out.
Painful conclusion
Their conclusions were based on his medical file provided by his wife, not on first-hand examination of the body.
"There was not liver cirrhosis, apparently no traces of cancer, no leukaemia," said Dr Patrice Mangin, the head of the Institute of Legal Medicine of Lausanne University. "Concerning HIV, Aids - there was no sign and the symptomology was not suggesting these things."
"We got into this very, very painful conclusion, but at least this removes this great burden on me," Arafat's wife told the television channel.
"At least I've done something to explain to the Palestinian people, to the Arab and Muslim generation all over the world, that it was not a natural death, it was a crime," she added.
Bochud, the head of the institute, said the only way to confirm the findings would be to exhume Arafat's body to perform further tests.
"But we have to do it quite fast because polonium is decaying, so if we wait too long, any possible proof will disappear," he told Al Jazeera.
Arafat's widow said she would ask for Arafat's body, buried in the West Bank town of Ramallah, to be exhumed.