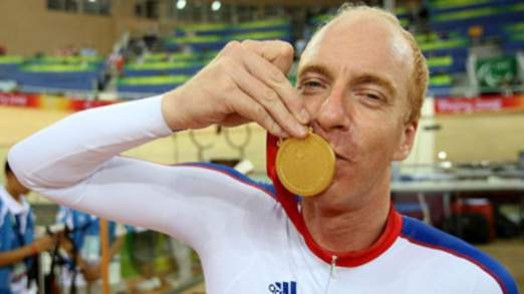 A famer convicted of dangerous driving after hitting and injuring Paralympic champion cyclist Simon Richardson has been jailed for 18 months.
Edward Adams was twice over the drink-drive limit and driving with chronically bad eyesight when he struck Richardson in his van along the A48 near Bridgend in August 2011, leaving the double gold medalist with a collapsed lung, perforated bowel, spinal fractures and broken pelvis.
Adams, 60, from Cowbridge, Vale of Glamorgan, was also banned for driving for five years at the sentencing at Cardiff Crown Court.
He denied dangerous driving but admitted to drink-driving and failing to stop after an accident.
The court heard that Adams told police he had drunk his first whisky at 6am on the day of the accident. Adams claimed he did not stop because he thought he had hit a sheep.
Adams attempted to hide his Peugeot van at his farm after the collision. It was eventually found by a police helicopter with damage to a wing and windscreen.
Judge Daniel Williams said: "You first got into the car at 8.45am that morning and when you were breathalysed just after midday you were more than twice the legal drink drive limit.
"Mr Richardson was clearly visible - cycling close to the kerb and wearing bright clothing.
"Your claims that you were affected by sneezing and sunlight were wholly untrue.
"Your reaction to the accident and its aftermath could not be in greater contrast with the man that you had left injured.
"You took the opportunity to leave the scene - knowing you had caused the accident."
Richardson, 44, was awarded an MBE after winning two gold medals and one silver at the 2008 Beijing Paralympic Games. He has been permanently disabled since 2001, when he lost all feeling down his left side after being hit by a car.
The accident caused by Adams ended Richardson's hopes of competing at London 2012. He is now due to have an operation on his spine, which could take up to a year to recover from.
Speaking after lighting the Paralympic cauldron in Cardiff earlier this week, he said: "I don't know if I will be paralysed, on a hand bike or on a normal bike again. There is a possibility of paralysis which is a difficult thought, but what do you do about it?"
Richardson says he still has hopes of competing in Rio 2016.