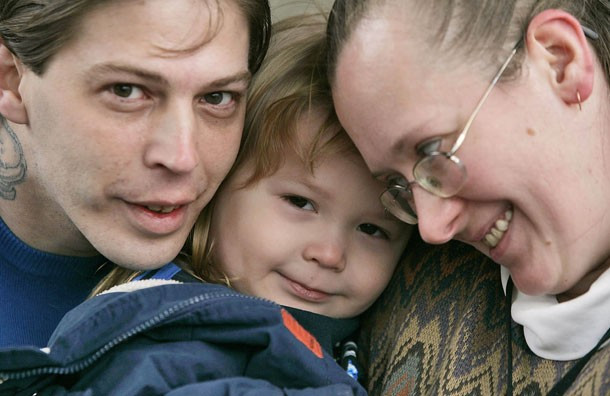 A couple from New Jersey who named two of their children Adolf Hitler and Aryan Nation have lost custody of all three of their children.
Five-year-old Adolf and his sisters Aryan Nation and Honszlynn Hinler Jeannie, both three, have been in foster care since they were removed from their parents Heath and Deborah Campbell in 2009.
The family first drew attention after a shop in Flemington, New Jersey refused to decorate a cake with Adolf's name it.
Heath and Deborah were cleared of child abuse yesterday but an appeals court ruled against them getting their children back from foster care.
The court said there was sufficient evidence of abuse and neglect in their home to warrant the children to stay in care.
However, the Campbells are claiming that New Jersey's Division of Youth and Family Services ((DYFS) and the presiding judge admitted the sole reason that they cannot get their kids back is because of the children's names.
"Actually, the judge and DYFS told us that there was no evidence of abuse and that it was the names. They were taken over the children's names," Heath Campbell told NBC 10.
The couple have admitted they are aware of the negative associations that come with the names, but believe they should be allowed to call their children whatever they want on the grounds of free speech.
"This is America, they say it's free, you have the right to name your child whatever you want to name your child, no matter what," said Mr Campbell.
The Campbells also deny that they are neo-Nazis, despite covering their home in swastikas.
The parents say that a judge will decide by early December if the kids will eventually come home.
Nazi Myths: Top Ten Conspiracy Theories About Hitler And The Third Reich