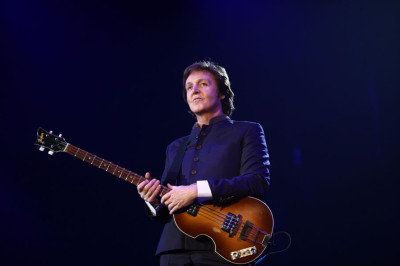 A fortnight ago, Sir Paul McCartney produced a rocking performance at the Queen's diamond jubilee concert. On Monday, the former Beatle turns 70!
While the concert in front of the Buckingham Palace - held to mark the Queen's 60 years of service to the country - proved McCartney was still a heartthrob, his 70th birthday marks an era of rock 'n' roll music.
The Beatles star, who enjoyed a reasonably successful post-JohnPaulGeorgeRingo career after forming the Wings in 1971, was born on 18 June, 1942, in Liverpool.
McCartney rose to worldwide fame with the Beatles and his work with John Lennon is often referred to as one of the most celebrated songwriting partnerships in the history of all music. However, despite enjoying remarkable success together, the two had a sometimes strained relationship. They remained close friends all through till Lennon's assassination in New York City in 1980, but many feel Lennon's relationship with Japanese avante-garde artist Yoko Ono was one of the reasons why McCartney eventually walked away from the Beatles.
Nevertheless, McCartney later admitted that had he known Lennon would be killed so brutally and swiftly, he would have made much more of an effort to improve their relationships. He also added he called Yoko Ono when he heard of the news of Lennon's death and the first thing she told him was just how fond of him Lennon had been. In 2002, McCartney said to Mojo magazine that Lennon had been his greatest hero.
After the Beatles split up and went their separate ways, each to their individual careers, McCarteny formed Wings - with first wife Linda Eastman and singer-songwriter Denny Laine. He enjoyed not inconsiderable success with them but, as you'd expect, he always remained a Beatle, as did John Lennon, George Harrison and Ringo Starr.
McCartney's former right-hand man, Geoff Baker, wrote in the Mirror Online that he felt the former Beatle would never really retire from music. He felt McCartney's diet (he is a vegetarian), lifestyle and, above all, the desire to "write one more really good song" despite being the "most successful musician ever" would ensure his place as a legend of music (alongside the other Beatles) would never be usurped.
The composer of cult songs like Let It Be, Hey Jude, Yesterday, When I'm Sixty-Four, Maybe I'm Amazed and Live And Let Die, McCartney's pre-eminent place as one of the most successful composers and recording artists of all time is, according to the Guinness World Records, a done deal.
Today, at 70, McCartney continues to sing, compose, play and stage concerts with as much vigour as he did 30 or 40 years ago and as he continues his endeavours in music, here is a slideshow presenting Sir Paul McCartney through the years