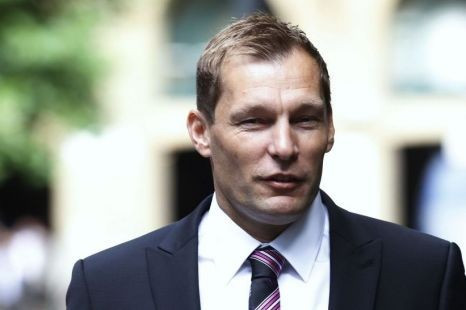 PC Simon Harwood, who was found not guilty of the manslaughter of newspaper seller Ian Tomlinson during the G20 protests, has a history of allegations of violence and misconduct in the police force against him, it emerged after his trial.
By Harwood's own admission, he has a volcanic temper and told a police hearing a decade ago that he suffered from the "red mist".
Deputy assistant commissioner Maxine de Brunner said after he walked free from court: "It is clear that insufficient recording and checks meant that detailed information regarding the officer's misconduct history was not shared at key points. We got that wrong."
Through much of his career, Harwood has faced down claims of violence against suspects, plus one claim of racial abuse and one of professional misconduct. The latter was the only one that led to disciplinary proceedings.
According to The Independent, he faced 10 complaints in 12 years as a police officer.
In 2000, he resigned from the Met shortly before he was to face a hearing that he attacked a motorist while off duty, arrested the driver for assault and falsified his notes about the incident.
According to Tomlinson's lawyers, Harwood was to be disciplined but resigned and rejoined the Met three days later in a civilian role.
In 2005 he was alleged to have kneed a suspect in the kidneys while he lay on the ground. He was also accused of twisting the handcuffs of a manacled motorist he had stopped for a speeding offence.
Harwood has been accused of punching and throttling other suspects while in uniform in other alleged incidents, according to the Tomlinson trial prosecution lawyers.
Another complaint came from a 14-year-old girl who claimed he racially abused her.
The only charge proven against Harwood was in 2008 when he admitted unlawfully using a police computer to check details of a motorist.
The allegations against Harwood were not revealed to the jury at the Tomlinson trial and emerged only after he was acquitted.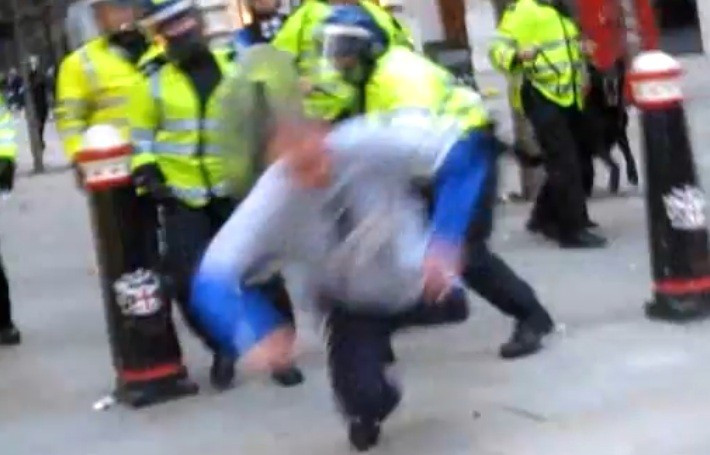 Harwood jury deliberated for 19 hours
Harwood, 45, was filmed on video striking Tomlinson, 47, with a baton and shoving him to the ground as Tomlinson walked past a police line by the Royal Exchange Buildings in the City of London in April 2009 as anti-capitalist protests flared.
The father-of-nine then walked 75 metres further along the street before collapsing and dying.
The jury of five men and seven women accepted Harwood's plea of not guilty to Tomlinson's manslaughter on the grounds that the defendant was using reasonable force. The jury deliberated for nearly 19 hours at the end of his three-month trial.
The Independent Police Complaints Commission has said that Harwood would face Metropolitan Police internal disciplinary proceedings later in the year over the G20 incident.
"Following the conclusion of the trial of PC Harwood, we will now need to review the misconduct case against him, as required by the Home Office guidance," said de Brunner.
Harwood had previously accepted in court that it was "wrong" for him to push over Tomlinson, who was drunk at the time, and if he had known Tomlinson was walking away from police he "would not have gone near him", he told the court.
He told the jury: "Now I've seen all the evidence and I know how poorly Mr Tomlinson was I'm sorry that I got involved. I shouldn't have hit him with a baton and pushed him.
"I believed he was doing it on purpose. From what I saw he looked like he wasn't going to move and was looking at the police as though he wanted them to move him away."
Harwood also admitted he would not have pushed Tomlinson if he knew he was drunk.
An inquest ruling 14 months ago found that Tomlinson was unlawfully killed at the G20 protest, prompting the Crown Prosecution Service, which had initially declined to prosecute, to reverse its decision and bring charges against Harwood.
The family of Tomlinson said they would be pursuing the case in a civil court either against Harwood or the Metropolitan Police.
Tomlinson's stepson, Paul King, said outside the court after the verdict was announced: "After the unlawful killing verdict at the inquest last year, we expected to hear a guilty verdict - not a not guilty verdict. It really hurts.
"It's not the end, we are not giving up for justice for Ian."
Harwood made no comment as he left the court.