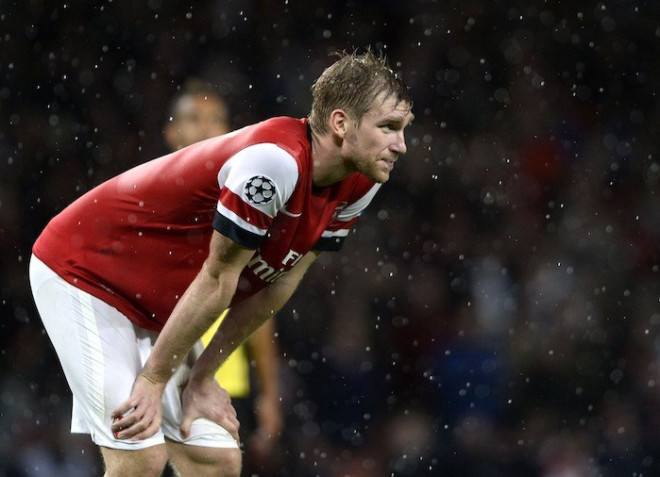 Arsenal defender Per Mertesacker admits he side "don't fancy" early kick offs and has urged the Football Association to stop handing the Gunners the 12:45pm time slot.
The German defender's comments come in the wake of Arsenal's 6-0 defeat to Chelsea at Stamford Bridge on Saturday, a result that may have ended the club's hopes of challenging for the Premier League title.
That result was the latest embarrassing defeat the club have suffered in Saturday's 12:45 kick off slot, following a 5-1 loss the Liverpool at Anfield last month and a 6-3 defeat to Manchester City in December.
While the Gunners have fared better on early starts on other occasions this season; including their 4-1 victory over Everton in the FA Cup quarter final, Mertesacker admits that there is a problem when his side play early away from north London.
"I don't know why, but it looks like we don't fancy early kick-offs away," Mertesacker said.
"It looks like we are going to have to apply to the FA to not play at 12.45 away. That would help us a lot.
"We wanted to start very strong and show people we are good enough, but they scored the two very early goals.
"We lost some balls when we tried to keep it desperately. They then caught us on the counter-attack. We tried to avoid that. But we missed it completely. There was not much difference before the red card, but afterwards it was even harder to come back, especially when it goes to 3-0 and 10 men so early.
"We must put this behind us now, show our character and bounce back on Tuesday night against Swansea at the Emirates Stadium. It's a good opportunity to react quickly after this result."
Arsenal's heavy loss in west London saw them slide to fourth place, seven points off leaders Chelsea with a three horse race for the Premier League title now developing between them, Liverpool and Manchester City.
In the aftermath of that loss, Wenger took the unusual move of cancelling his pre-match press conference on Monday morning ahead of Tuesday's game against Swansea City.