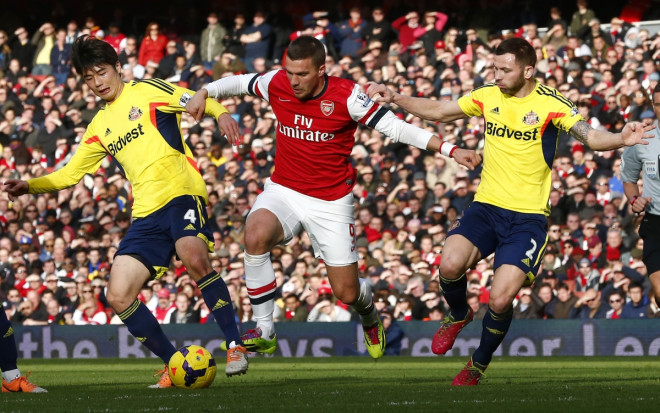 Arsenal striker Lukas Podolski has revealed that he is not happy with the manager substituting him before the final whistle in every single game.
The German is among the best strikers of the football in the Arsenal line-up but has not been the manager's favourite off late, with Arsene Wenger preferring to bring him off in the final quarter of the game to make way for fresher legs. The player has made only 15 appearances in the league thus far which has also been maligned by a hamstring tear he suffered in the first half of the season.
The 28-year-old has scored four goals and assisted two in the league thus far, a meagre return from a player of his calibre. Podolski was substituted against Wigan in the 70th minute for Olivier Giroud when the Gunners were in dire need of a goal.
The move has not amused Podolski at the slightest, who insists that he would love to finish games rather than be taken off with 20 minutes left on the clock.
"Of course. I play and, in the last games, I always come out and of course you cannot be happy when you always go out after 60, 70 minutes. Of course I am not happy always to be substituted," Podolski said.
"It's the decision of the boss. It's not always easy when you play for a big club but of course I am not happy to always come out and watch from outside. You cannot be happy with this situation," he added.
Meanwhile, the player has revealed that missing out on the Champions League next season will be a disaster for the Gunners. Arsenal have always qualified for Europe under Arsene Wenger and face a gigantic task to keep the streak alive, with Everton having overtaken them by two points for the fourth and the final spot.
"Every season there is a pressure when you don't win anything. The fans get nervous but we have the chance this year to win the FA Cup. The other important thing is to get fourth place back because when you don't play in the Champions League, it's a disaster," Podolski concluded.