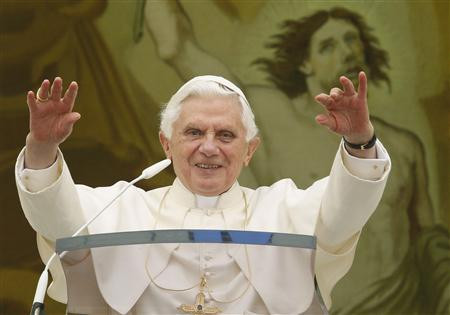 Pope Benedict XVI has come to Britain with a message of friendship and warning, in what is the first Papal visit since that of the previous pope, John-Paul II, in 1982.
The current pope said that he wanted to "extend the hand of friendship" to the people of Britain but also warned against "aggressive forms of secularism". His comments will likely be seen as a response to threats by prominent atheists such as Richard Dawkins, who have called for the Pope to be arrested.
Despite the vocal minority at the Protest the Pope organisation, the Pope has been welcomed by cheering crowds in Edinburgh, with locals invariably describing a "carnival atmosphere" being present.
Her Majesty the Queen and the Pope both spoke at Holyroodhouse. The Queen said, "Your Holiness, I am delighted to welcome you to the United Kingdom, and particularly to Scotland, on your first visit as Pope.
"Your Holiness, your presence here today reminds us of our common Christian heritage and of the Christian contribution to the encouragement of world peace, and to the economic and social development of the less prosperous countries of the world."
The Pope responded, "Your Majesty, thank you for your gracious invitation to make an official visit to the United Kingdom, and for your warm words of greeting on behalf of the British people.
"In thanking Your Majesty, allow me to extend my own greetings to all the people of the United Kingdom, and to hold out a hand of friendship to each one."
He went on to say, "Today, the United Kingdom strives to be a modern and multicultural society.
"In this challenging enterprise, may it always maintain its respect for those traditional values and cultural expressions that more aggressive forms of secularism no longer value or even tolerate."
On the flight to Britain the Pope also expressed his "sadness" that the Catholic Church had not been "sufficiently vigilant and not sufficiently quick and decisive" in rooting out child sex abuse by some of its priests.