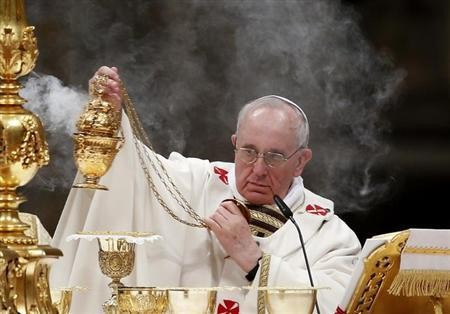 The newly elected pope Francis I is taking his first Easter mass this morning, leading thousands of Catholics in an open-air ceremony in St Peter's Square, Rome.
As the Pope strode on to a flower bedecked esplanade outside St Peter's Basilica, pilgrims from around the world listened to the gospel story sung in Latin.
Easter is the most important festival in the Christian calendar, and marks the resurrection of Jesus following his crucifixion.
Later this morning, the Pope will deliver his Urbi et Orbi speech, to the city of Rome and to the world.
On Saturday 30 March he presided over Easter vigil mass in St Peter's Basilica, with the church plunged into to darkness at the beginning of the ceremony to mark the darkness in Jesus' tomb where he lay for three days after his crucifixion.
More than 10,000 pilgrims then lit candles as Francis walked up the main aisle.
In a much shorter ceremony than those favoured by his predecessor, Benedict XVI, Francis appealed to non-believers and lapsed Catholics to step forward towards God.
"Let the risen Jesus enter your life, welcome him as a friend, with trust: he is life! If until now you have kept him at a distance, step forward," Pope Francis said.
"He will receive you with open arms."
Commentators have remarked on the simplicity and directness Francis has brought to the office.
He regularly eschews the elaborate robes and formalities of the papacy, wearing a simple white cassock and living in a guesthouse, rather than grand Vatican apartments.
On Easter Thursday mass at a youth detention centre he kissed the feet of 12 people, including a Serbian Muslim woman, in another break with protocol.
In the following day's Good Friday procession Francis, formerly Cardinal Jorge Mario Bergoglio, spoke of the "friendship of our Muslim brothers and sisters" in the Middle East.