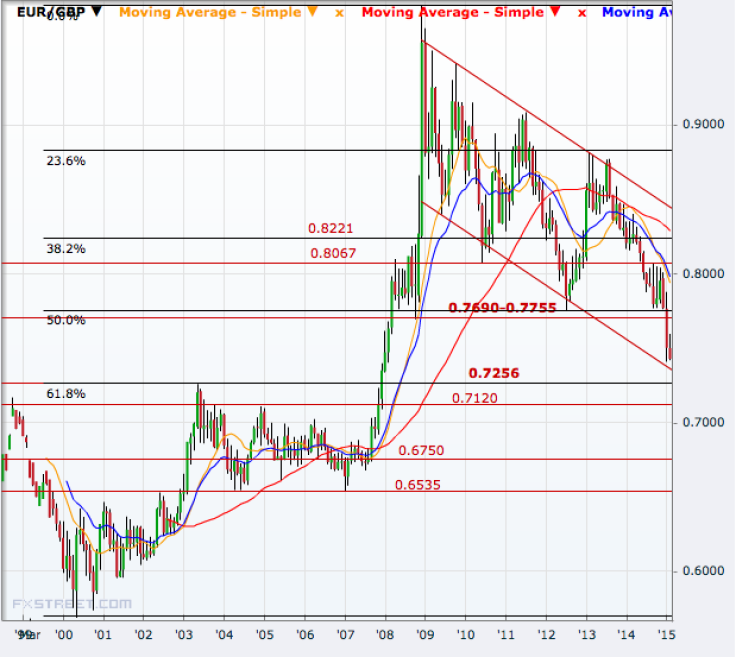 Within just four days, the UK currency has rallied more than 2% against the euro and neared the 26 January seven-year high with the market awaiting crucial inflation cues from the Bank of England.
The EUR/GBP had hit a 12-day high on 3 February, and since then the cross has been inching lower. On Monday, it slipped to as low as 0.7417 from the previous close of 0.7429 and compared to the last month low of 0.7404.
Technically, the EUR/GBP is testing the downside barrier of a downward channel, indicating the likelihood of a bounce. But given that it is a long-term trend, the cross may also find some additional room on the downside before a stronger rebound.
In that case, 0.7256 is a very important support level endorsed by the 61.8% Fibonacci retracement of the 2000-2009 rally. On the higher side at the same time, 0.7690-0.7755 stands as a very strong resistance barrier which is also supported by the 50% Fibo line.
The BoE inflation report on 11 February will assess the overall economic scenario and refresh its growth and inflation projections for the UK.
The next day, the central bank will publish a special "inflation letter" which is usually published when either the CPI rate rises above 3% or falls below 1% as it targets an annual inflation rate of 2%.
In the November inflation report, the BoE had said there were significant risks on both sides for inflation, but data later proved that it was the downside risk that dominated.
In December, the UK inflation rate fell below 1% to 0.5%, forcing the authorities to announce the publication of the inflation letter. The BoE issues such a letter only if the inflation rises above 3% or falls below 1% as it targets an annual inflation rate of 2%.
Along with the inflation letter, a speech by BoE governor Mark Carney will be released.
With US non-farm payrolls for January coming in dollar-positive and the GBP/USD holding not far away from an 18-month low, the Sterling's immediate future hinges on the inflation cues and Carney's take on the economy available next week.
On Monday, the pound showed weakness against the greenback, slipping to 1.5217 from the previous close of 1.5236, further distancing from Friday's one-month high of 1.5354.