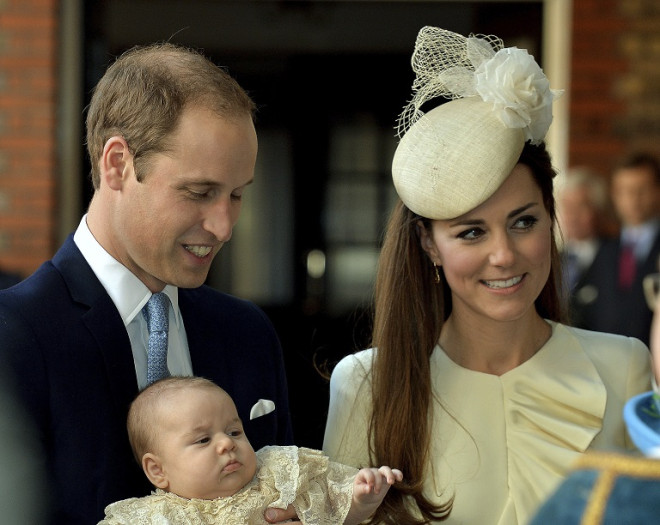 The Duke and Duchess of Cambridge enjoyed a rare night off as they partied till the early hours with friends at London's select "Bunga Bunga" bar.
Escorted by six police protection officers but leaving seven-month-old Prince George with babysitters back at the palace, William and Kate were out to celebrate the birthday of Louise Aubrey Fletcher, wife of one of the prince's oldest friends, Harry.
Kate could be seen dancing with Emilia Jardine-Paterson d'Erlanger, who is pregnant and is expected to ask William to be godfather to her child.
At the end of the evening the royal couple were ushered through a side door back to the palace - and were probably hoping George would allow them a lie-in next morning.
Meanwhile, it emerged that William and Kate have broken with tradition by hiring an as yet unidentified young European girl as their next nanny to help them change nappies "down under" on their Australian tour. Traditional royal nannies have been more mature and the news that William and Kate chose someone younger is seen as another sign of the changing face of the monarchy.
William's own beloved childhood nanny Jessie Webb has apparently ruled herself out of the royal tour, claiming that at 71 she would find the month-long tour too demanding. Mrs Webb's contract actually ended at Christmas but she agreed to stay on until the Duke and Duchess found someone suitable. William remains very fond of Mrs Webb and apparently hopes she will continue to play a role in Prince George's upbringing.
"Jessie was from the old school of nannying and William and Kate have loved having her," said a source close to the royal couple. "She has George in a great routine, and he is a very happy little boy. They both adore Jessie and will be keeping in close touch with her."
Kate's mother Carole will also apparently be lending a hand though it is unclear whether she will also go on the trip to Australia and New Zealand, which begins in early April.