A racist father who butchered his girlfriend and their eight-year-old daughter after voices in his head told him to do so, has been jailed for life.
John Miller, 38, admitted to killing his partner Sarah Laycock and daughter Abigail Miller at the family home in Leeds in January 2012.
Miller, a former member of the British National Party (BNP), also told how he spared his other four-year-old daughter Amelia as she was a "pure Aryan".
He admitted to manslaughter on the grounds of diminished responsibility but denied murder. Forensic psychiatrists agreed Miller was seriously mentally ill at the time of the attack.
He was sentenced to life with a minimum of 15 years in jail at Leeds Crown Court.
The court heard how Miller carried out he frenzied attack using knives and an axe after suffering from a "psychotic" episode following years of cannabis, cocaine and steroid abuse.
Laycock suffered a total of 19 stab wounds to the neck, chest and face during the attack. Miller had also hit her four times in the face with an axe. His daughter Abigail suffered nine wounds.
The court heard how she must have put up a "considerable struggle" fending off her father due to the defensive injuries she suffered.
The daughter who Miller spared was left in the house with the bodies of her mother and sister for 12 hours.
Following his arrest, Miller told doctors in a mental hospital: "people with brown eyes were muddying the gene pool" and "voices in his head" told him to kill his family.
In a statement read out in court, the family said: "We'll never come to terms with Miller's reasons why he killed Sarah and Abi, the graphic details are truly horrendous.
"John Miller has single-handedly destroyed our lives. No custodial sentence could ever be long enough."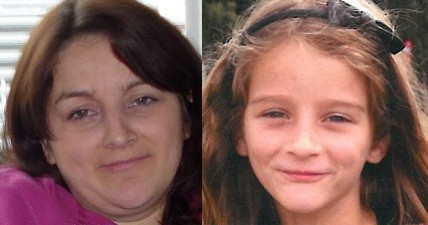 Det Supt Lisa Griffin, from West Yorkshire Police, said: "John Miller killed his partner Sarah Laycock and their young daughter Abigail during an appallingly violent episode in the family home during which he inflicted terrible injuries on them.
"Their deaths have left their family and friends completely devastated and two school communities shocked and upset.
"The reason why his violence was directed at those closest to him can only be attributed to Miller's psychosis. He was delusional and out of control.
"Sarah Laycock was a loyal partner, a loving mother and a hard-working deputy headteacher. She did nothing to provoke her violent death and everything to love and protect her children. Her loss can only be described as devastating to all who had the pleasure of knowing her."