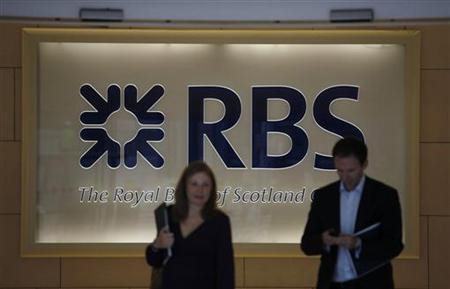 Shares in RBS were down slightly on the FTSE 100 ahead of the part-nationalised bank's first half results, due out tomorrow.
RBS will be the last of the "big five" banks to report half year results this week and is expected to announce a profit of £120 million, following a one billion pound loss in the first half of 2009.
The news is likely to be welcomed by the government as well as investors, as the taxpayer still holds a stake of over 80 per cent in the bank.
Earlier this week Lloyds Banking Group, in which the taxpayer has a 40 per cent stake, also reported a return to profit in the first half of this year, reporting £1.6 billion profits, around double that expected and signficantly better than the four billion pound loss reported last year.
HSBC, Standard Chartered and Barclays, none of which needed government bailouts during the financial crisis, also reported their half year results this week and all showed healthy and improved profits from the previous year.
By 16:05 shares in RBS were down 0.19 per cent on the FTSE 100 to 52.00 pence per share.