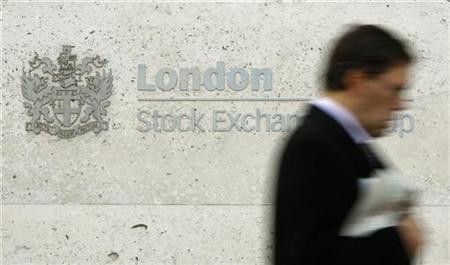 Shares in British banks were broadly down in morning trading on the FTSE 100 after the Bank of England yesterday predicted a more "choppy" recovery than was previously hoped for.
The Bank of England yesterday downgraded its estimates for economic growth in the United Kingdom, following similar downgrades for the U.S. from the Federal Reserve.
Economic growth next year is expected to be around 2.5 per cent, the Bank of England said, down from the figure of 3.4 per cent which the central bank was predicting in May.
The downgrade hurt banking shares this morning.
By 09:40 shares in Lloyds Banking Group were down 0.93 per cent to 69.38 pence per share, Barclays shares fell 2.02 per cent to 307.25 pence per share and HSBC shares declined 0.64 per cent to 653.30 pence per share.
RBS shares however proved the exception, rising 0.41 per cent to 46.19 pence per share.
Overall the FTSE 100 was down 0.08 per cent to 5,240.80.