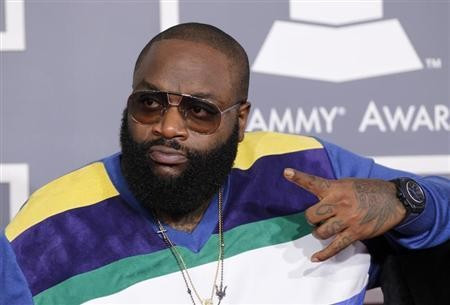 US rapper Rick Ross has been dropped as the face of Reebok amid continued controversy over lyrics that appear to justify rape in his new song, UOENO.
The sportswear giant confirmed that it had terminated its endorsement deal with Ross after he failed to show remorse for the inflammatory song, which talks about drugging a woman before having sex with her.
\"Reebok holds our partners to a high standard and we expect them to live up to the values of our brand,\" the company said.
\"While we do not believe that Rick Ross condones sexual assault, we are very disappointed he has yet to display an understanding of the seriousness of this issue or an appropriate level of remorse.
\"Rick Ross has failed to do so.\"
Ross, born William Leonard Roberts, tweeted a public apology in the face of the growing outcry but it was a question of too little, too late for the sportswear firm.
\"I dont condone rape. Apologies for the #lyric interpreted as rape. #BOSS,\" he told his 2.8 million followers after women\'s rights group UltraViolet protested outside the Reebok offices in Manhattan.
He later added: \"Apologies to my many business partners, who would never promote violence against women. @ReebokClassics @ultraviolet.\"
The 37-year-old had been accused glamorising rape with the rap: \"Put molly [a date rape drug] all in her champagne, she ain\'t even know it. I took her home and I enjoyed that, she ain\'t even know it.\"
Reebok\'s decision to sever ties with Ross came days after fellow rapper Meek Mill defended the song, claiming that the scandal had been blown out of proportion.
\"I don\'t even care about nobody criticising no lyrics,\" he said. \"People rap about killing stuff all day,\" he told 93.9 in Washington.
In March, a Michigan radio station pulled Ross\'s music from its playlist, claiming that his new song carried a harmful message.
WUVS-LP 103.7 The Beat said Ross\'s lyrics \"not only condone the behaviour but he boasts about it in the song.\"