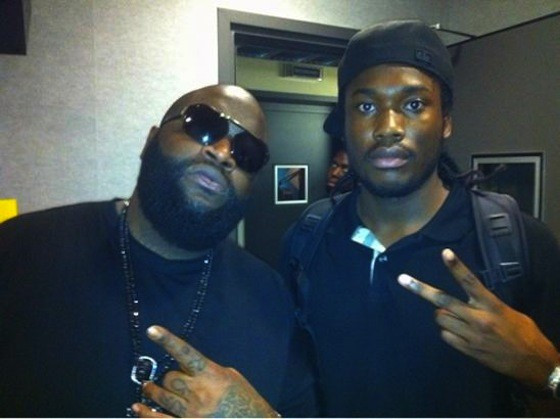 US rapper Meek Mill is at the centre of a media storm after defending rape lyrics in Rick Ross's new track, UOENO.
The 25-year-old Burn hitmaker insisted that the song, which talks about drugging a woman before having sex with her, is nothing new in hip-hop. The scandal had been blown out of proportion, he said.
Ross came under fire for the rap, "Put molly [a date rape drug] all in her champagne, she ain't even know it. I took her home and I enjoyed that, she ain't even know it."
Mill compared the lyrics of Ross, his mentor and label boss, to those of a Notorious BIG line in the 1997 album cut, What's Beef?
"I don't even care about nobody criticising no lyrics," he said. "People rap about killing stuff all day man," he told 93.9 in Washington
"Biggie said, 'Rape ya kid, throw her over the bridge.' Back then, it was nothing. It was just hip-hop."
He lambasted critics for drawing negative attention to the track which has grown in popularity in the rap underground and has won some radio airplay.
"You got all these weirdos on these social sites voicing their opinions about something anybody say. I'm from the hood. I never really cared about what nobody said in no raps," he said.
"Raps always been talking about killing, drugs, all types of stuff, you know what I'm saying? So you can't just criticise no one thing nobody say.
"It's imaginary visuals. If a writer write about somebody getting raped in a movie, that mean he a rapist or he want girls to get raped? No, he just wrote about that in a movie."
His comments have provoked a backlash in the online community.
One fan said: "You gonna lose fans for this. Be smart about your words even if you don't mean them and they aren't from the heart. You a public figure now, everything counts."
Another wrote: "I always suspected he was a fool, but I appreciate the fact that he took the time to make those statements and confirm my suspicions."
In March a Michigan radio station took a stand against misogynistic and violent lyrics by pulling Ross's music from its rotation list.
WUVS-LP 103.7 The Beat said Ross lyrics "not only condone the behaviour but he boasts about it in the song".
"While some feel it's only entertainment, many feel it sends and encourages the wrong message. Several individuals and organistions have taken a stand and so are we," a spokesperson said.