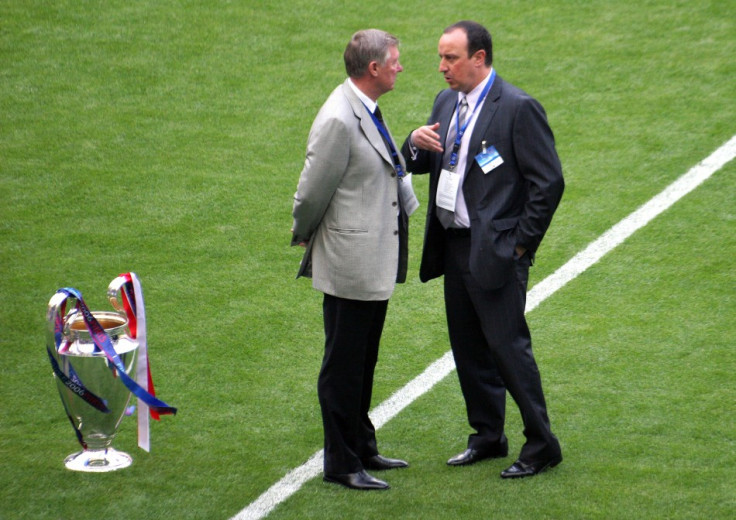 Rafa Benitez has had his say on his rivalry with Manchester United manager Sir Alex Ferguson, with the former Liverpool gaffer claiming that it was only when the two sides became competitive that Ferguson started to have a problem with him.
The animosity between Benitez and the Manchester United manager has been well documented over the years, and was thought to stem from 2009, when the then Liverpool coach sensationally claimed that the Scot had a special relationship with the FA and was getting away with talking to referees and complaining about fixtures where other managers would not.
United went on to win the title that year, but have still been unable to topple Liverpool's five European trophies, one of which Benitez won with the club in 2005.
But Benitez insists that he doesn't have any regrets over his speech about the United manager, and believes that trouble was brewing between Old Trafford and Liverpool from the moment the Reds started pushing for the title.
"Our relationship was good until we started 
to compete with them," he told FourFourTwo.
"We beat United sometimes and we got close to them, and then everything changed.
"I have no regrets because the things I said were what the fans were saying, and it was the right time because they were under pressure and we were trying to push a bit more.
"The difference was that they had two games in hand and they won more points than us, so people 
look at it as a mistake, but it wasn't."
Ferguson is well known for making managers angry to the point where they say things they regret. Kevin Keegan is another example of a manager sent to the brink of madness by Ferguson; with Newcastle in the winning position to take the title from United in 1996, his rant on television was seen in hindsight as the beginning of the end of the Toon's failed campaign for a trophy.
But Ferguson has taken particular issue with Benitez, still insisting to this day that he is not friendly with the former Liverpool manager, who is currently without a managerial position.
Benitez has touted the possibility of making a move back into English management, which would surely fire up the rivalry between himself and Ferguson once more, but with Kenny Dalglish firmly placed in the managerial position at Liverpool, it would appear likely that if Benitez does return, it will be to a different club.
Benitez's rant on Ferguson: