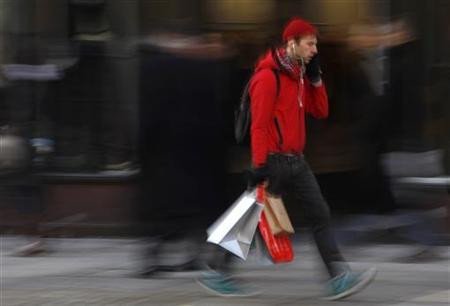 Britain's retailers were given a surprise after volumes of retail sales were found to have dropped from the previous year, according to the Quarterly Distributive Trades Survey conducted by the Confederation of British Industry.
The survey found that while 30 per cent of retailers found that sales volumes increased during the first two weeks of May, 48 per cent said that volumes had fallen, giving a balance of -18 per cent, the lowest since March last year and much lower than the +17 per cent expected.
The greatest declines were found to be among chemists, durable household goods and hardware, china and DIY retailers. Clothing sales also fell after three months of growth.
The CBI said that a balance of -15 per cent of retailers expected sales to decline again next month.
Employment in the retail sector was also found to have dropped in May, with a balance of -20 per cent saying that employment was down from last year.
A balance of +49 per cent of retailers said that average selling prices increased in May. A net +5 per cent of companies said they expected the overall business situation to deteriorate over the next three months.
Among motor traders a balance of +23 per cent said that sales volumes increased in May, better than an expected balance of -44 per cent.
The survey found that a balance of +20 per cent of wholesalers experienced a rise in sales, less than the +42 per cent expected. A balance of +3 per cent of wholesalers said they expected sales volumes to be broadly unchanged from last year.
A balance of -53 per cent of wholesalers reported a drop in employment.
Ian McCafferty, CBI Chief Economic Adviser, said, "These retail sales figures for the early part of May are clearly disappointing, with many sectors failing to achieve higher sales than a year ago.
"Unseasonal poor weather at the start of the month is likely to have dented clothing sales, while some signs of slowing momentum in the housing market may help to account for the renewed weakness in sales of big-ticket items and other household goods.
"Retail conditions look to remain fragile however, as another year-on-year fall in sales is expected in June.
"It appears that shoppers are feeling the pinch again and are being cautious with their purchases, given the squeeze to real incomes from higher prices and only a modest rise in average pay."