Football Fan Dies Trying to Dribble Ball 10,000 Miles to Brazil
Richard Swanson knocked over by pickup truck on coast of Oregon raising funds for One World Futbol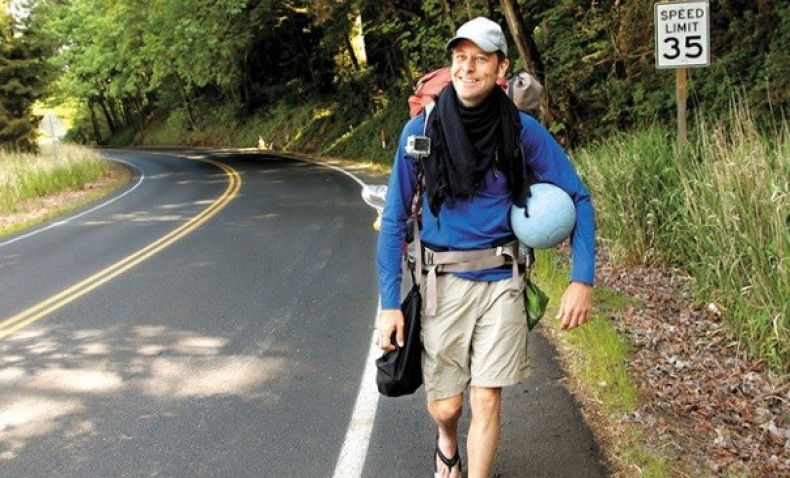 A football fan who was attempting to dribble a ball 10,000 miles from Seattle to Brazil in time for the 2014 World Cup has died after he was hit by a pickup truck on the coast of Oregon in northwestern USA.
Richard Swanson, 42, of Seattle, was while walking along US highway 101 on the outskirts of Lincoln City, said police.
He was declared dead at a local hospital. The driver has not been charged.
Among Swanson's possessions investigators found articles listing his website, breakawaybrazil.com, said Lieutenant Jerry Palmer. Swanson's football was among the items recovered.
Swanson, formerly a private detective, set out on the trek to promote the One World Futbol Project, based in Berkeley, California, which donates football balls to people in developing countries.
"We are deeply saddened to learn about Richard's death," said Lisa Tarver, chief operating officer of the One World Futbol Project.
"He was a very inspiring man who in a very short time walked his way into many lives. Our thoughts are with his family."
Before setting off, Swanson gave an interview to the Daily News newspaper in Longview, Washington, saying he was looking for an adventure between jobs. "I felt destined that I should go on this trip," he said.
A keen athlete, he took up football five years ago, playing on club teams and supporting the Seattle Sounders.
According to his website, Swanson left Seattle on May 1. The trip would have taken him through 11 countries before reaching São Paulo, Brazil, the venue of the 2014 World Cup.
"It will be a trip of a lifetime where I will push myself further than I ever thought possible," he wrote. The website features a map showing his route. A notice announcing his death was posted on Swanson's Breakaway Brazil Facebook page.
Kristi Schwesinger, a friend of Swanson, said he had been a private investigator for many years and switched to a new career as a graphic designer, but had gone looking for adventure after recently losing his job.
His next passion
"He was at a point in his life where he had raised his kids," said Schwesinger, an interior designer based in Seattle. "Both his boys, Devin and Raven, had graduated from high school. He had no mortgage. He had sold his condo recently and was between jobs.
"He loved the game of soccer. He stumbled on this great organisation, One World Futbol, and decided this would be his passion the next year."
Swanson stayed two nights in Vancouver, Washington state, with his son Devin, and had subsequently slept on sofas of those he met along the way.
"It was all by word of mouth, Facebook, media contacts, friends and family who put the word out," Schwesinger said.
Swanson spent Monday night in Lincoln City, before setting off for Newport, unsure where he would spend that night, she added. He posted photos and upfates on a Facebook page chronicling his journey.
Friends are considering setting up a foundation in Swanson's memory, and clubbing together to send his two sons to Brazil for the tournament, Schwesinger said.
"The hardest thing is he was so young," said Schwesinger. "Just today we were planning his surprise birthday party for Sunday. He was so full of life, so excited by the journey he was on. To be taken from us so soon is really heartbreaking."