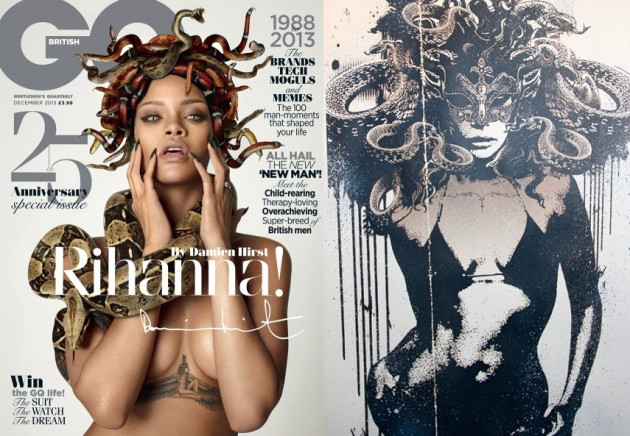 Controversial artist Damien Hirst is at the centre of another plagiarism row over his photoshoot for the latest cover of GQ, which depicts Rihanna as Medusa.
Stokes Croft artist Jim Starr claimed that the idea for the image, which depicts the topless pop star wearing a crown of snakes, snake-eye contact lenses and a python wrapped around her neck, was stolen from his own work produced three years ago.
Starr alleged that his original Medusa artwork first appeared alongside Hirst's artwork in a catalogue for a Dreweatts auction in London.
Starr's artwork is a print of woman posing in a bikini with wild Medusa-like hair.
"I am aware that artists are all drawing from the same well but I think I know when my work has inspired someone else's," Starr said.
"There is so much sharing of ideas in the contemporary art market these days that it is always hard to prove."
He said that he had no plans to take legal action.
"Damien has had a bit of flak in the past four or five years for allegedly pinching artwork," he said.
"I quite enjoyed the front cover and still think it is pretty good. I have read Damien's book, On the Way to Work, and enjoyed it. I do admire his work and was mildly flattered and amused that this 'coincidence' took place."
Despite being one of the world's most accomplished artists, Hirst's career has been blighted by accusations of plagiarism.
The 48-year-old star's famous diamond skull was allegedly inspired by artist John LeKay who made a skull covered with crystals in 1993. In 2000 Hirst was sued for breach of copyright over his celebrated sculpture, Hymn, which resembled a child's toy.