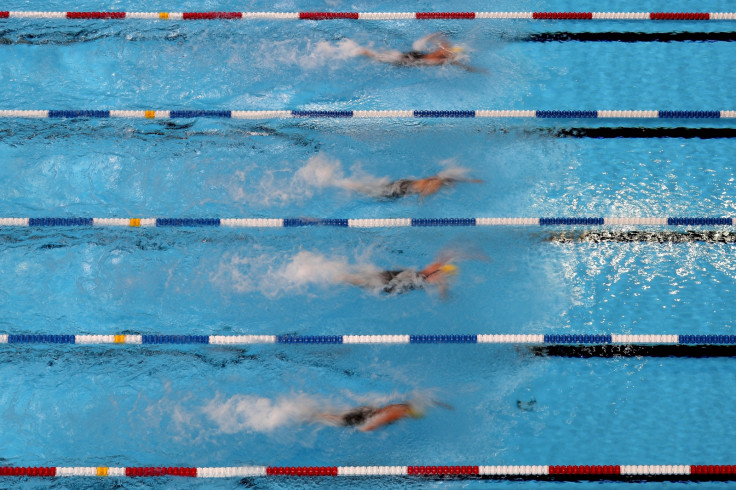 There are four practises that come under the aquatics banner; swimming (34 events), synchronised swimming (two events), diving (eight events) and water polo (two events). Swimming has been a cornerstone of Olympic competition since its inception. Free style (front crawl) and breaststroke appeared in the very first games back in 1896, with backstroke added eight years later. It wasn't until 1956 that butterfly made an appearance. Women's swimming was introduced at the 1912 games in Stockholm.
Synchronised swimming is relatively new to the party, appearing for the first time at the 1984 games in Los Angeles. It reappeared in 1988 and 1992 and returned full-time in 2000 with team and duet events. It and rhythmic gymnastics are the only Olympic sports exclusively for women.
Like swimming, water polo has a rich history in the Olympics, first appearing in 1900 and – apart from the 1904 games – has been ever-present since. Diving as a male-only event appeared on the scene in St Louis in 1904 with women's events included in 1912. Over the years, the height of platforms and springboards varied in range before the 10m and 3m events became a staple of sorts in 1928.
Rules
Swimming: Events take place across four swimming formats; freestyle (front crawl), breaststroke, backstroke and butterfly. Across all of those, swimmers must touch the wall upon completion of each length and at the finish. In freestyle, racers are permitted to use any style they like other than backstroke, breaststroke or butterfly. A part of the swimmer must break the water surface during the race. Medley events – both individual and relay – combine butterfly, backstroke, breaststroke and freestyle. Each of the strokes must cover one quarter of the distance. Only two swimmers per country are allowed in each event and one in relay events. Deliberate contact with a competitor during the race is forbidden.
Diving: In springboard events, men must complete six dives and women five. At least one dive must come from each of the five different categories – forward, back, reverse, inward and twisting. With an extra dive at their disposal, men can repeat one on their sixth. For Ppatform diving it is much the same except each diver must provide on forward, back, reverse, inward, twisting and arm stand dive from the 10m platform.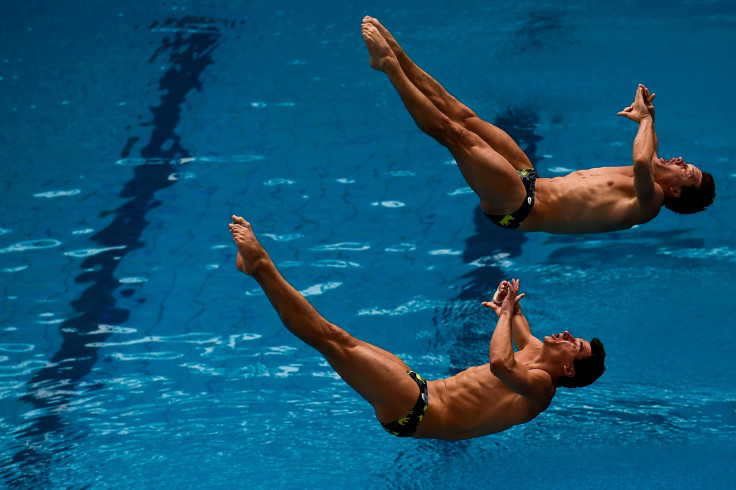 Water polo: Each side is permitted six outfield players and a goalkeeper. Players must tread water the entire time, and to move the ball, they are permitted to throw it to a teammate or push it along in from of them while swimming. Outfield players can only use one hand to hold the ball. It does get a bit knackering out there, so each side will have six substitutes waiting poolside.
The aim is to get the ball in the opponents net, and to ensure the speed of the game doesn't let up, each team has just 30 seconds to score before the ball passes to the opposition. Games are made up of four quarters, each lasting eight minutes.
Synchronised swimming: Swimmers perform routines to music in duets or teams of eight and attempt to prise the highest score possible off judges. Time limits apply and goggles are not allowed.
Format
Swimming: There are plenty of events to keep track of.
Freestyle: 50m, 100m, 200m, 400m, 800m (women only) and 1500m (men only)
Backstroke: 100m, 200m
Breaststroke 100m and 200m
Butterfly: 100m and 200m
Individual medley [IM]: 200m and 400m
Replay medley: 4x100, 4x200 and 4x100
It's a simple test of speed, with those with the best finishing times in their respective events progressing through heats (with a maximum of eight per heat) into semi-finals and the finals, where bronze, silver and gold wait for the three fastest finishers. In relay events, the eight fastest finishers from the heats progress straight into the finals.
Diving: There are eight competitors four for each gender with two heights each, springboard set at 3m and platform set at 10m. In both the standard dives and the synchronised dives, those with the best scores progress, as decided by judges who award points according to technique and grace. The more difficult the dive is to achieve, the higher the points they will receive. Run-up, take-off, flight and entry into the water are also taken into consideration. Each dive is given a score out of 10 and to calculate the final score for a dive, the top and bottom scores are excluded and the remaining five averaged.
Synchronised swimming: Swimmers perform routines to music in duets or teams of eight and attempt to prise the highest score possible off judges. There are two judge panels watching on; one for technical merit and the other for artistic impression. Team events take two days, the first spent focusing on technical routine and the second on free routine. Duet events last three days. The second day is reserved for free routines, after which the competition is narrowed down from 24 duets to 12 before the final day.
Water Polo: In the men's event, 12 teams are divided into two groups of six, while women are split into two groups of four. A round-robin schedule takes place in the group with four teams from each qualifying for a knock-out stage in the men's event and two from the women's. Knock-out rounds follow until only one team remains.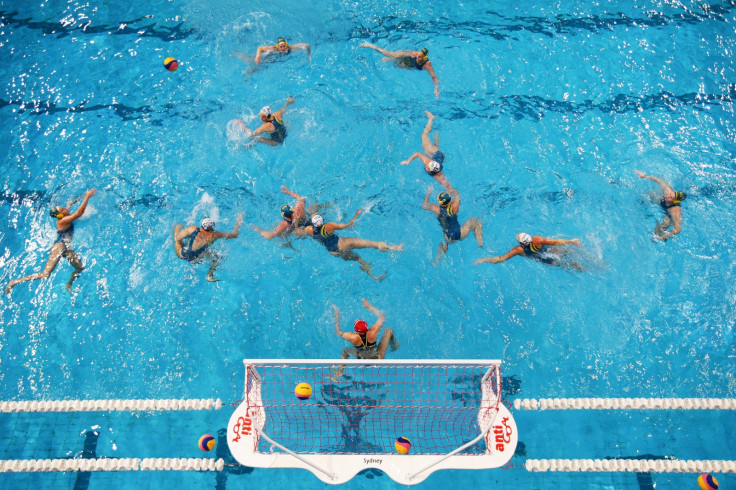 Key terms
Egg beater – A term used in water polo. Instead of treading water constantly, players conserve energy while retaining enough stability catch, pass, shoot, and defend by using this technique
Pike – A standard diving position where the body is bent at the waist but the legs remain straight.
Athlete to watch: Katie Ledecky (United States) – The Michael Phelps of women's swimming? Not quite, but the 19-year-old is quickly establishing herself as the best freestyle swimmer in the world having dominated 200m, 400m, 800m and 1500m events at World Championships in 2013 and in 2015. Four years ago in London aged 15, she won gold in the 800m freestyle.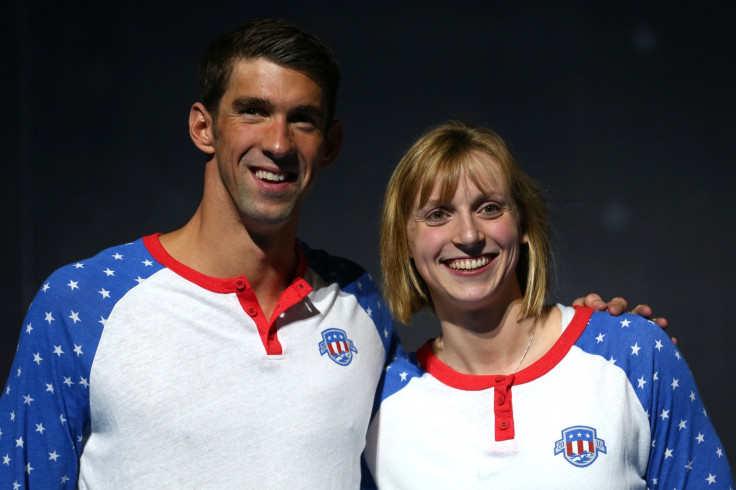 Venues
The Olympic Aquatics Stadium: A temporary structure used for swimming events that is to be taken down after the games.
The Maria Lenk Aquatics Centre: A venue originally built for the 2007 Pan-American Games and renovated for this summer's games. Water polo, synchronised swimming and diving will all take place here.
Schedule
Swimming
Saturday 6 August: Men's 400m IM final
Women's 100m Butterfly semi-final
Men's 400m Freestyle final
Women's 400m IM final
Men's 100m Breaststroke semi-final
Women's 4 x 100m Freestyle Relay final
Sunday 7 August
Women's 100m Butterfly final
Men's 200m Freestyle semi-final
Women's 100m Breaststroke semi-final
Men's 100m Breaststroke final
Women's 400m Freestyle final
Men's 100m Backstroke semi-final
Women's 100m Backstroke semi-final
Men's 4 x 100m Freestyle relay final
Monday 8 August
Women's 200m Freestyle semi-final
Men's 200m Freestyle final
Women's 100m Backstroke final
Men's 100m Backstroke final
Women's 100m Breaststroke final
Men's 200m Butterfly semi-final
Women's 200m IM semi-final
Tuesday 9 August
Men's 100m Freestyle semi-final
Women's 200m Freestyle final
Men's 200m Butterfly final
Women's 200m Butterfly semi-final
Men's 200m Breaststroke semi-final
Women's 200m IM final
Men's 4 x 200m Freestyle Relay final
Wednesday 10 August
Men's 200m Breaststroke final
Women's 100m Freestyle semi-final
Men's 200m Backstroke semi-final
Women's 200m Butterfly final
Men's 100m Freestyle final
Women's 200m Breaststroke semi-final
Men's 200m IM semi-final
Women's 4 x 200m Freestyle Relay final
Thursday 11 August
Men's 50m Freestyle semi-final
Women's 200m Breaststroke final
Men's 200m Backstroke final
Women's 200m Backstroke semi-final
Men's 200m IM final
Women's 100m Freestyle final
Men's 100m Butterfly semi-final
Friday 12 August
Women's 200m Backstroke final
Men's 100m Butterfly final
Women's 800m Freestyle final
Men's 50m Freestyle final
Women's 50m Freestyle semi-final
Saturday 13 August
Women's 50m Freestyle final
Men's 1500m Freestyle final
Women's 4 x 100m Medley Relay final
Men's 4 x 100m Medley Relay final
Water Polo
Saturday 6 August, Monday 8 August, Wednesday 10 August, Friday 12 August, Sunday 14 August: Group stage matches (men's)
Tuesday 16 August: Quarter-final stages
Thursday 18 August: Semi-final stages
Saturday 20 August: Final round (including third place play-off)
Tuesday 9 August, Thursday 11 August, Saturday 13 August: Group stages matches (women's)
Monday 15 August: Quarter-final round
Wednesday 17 August: Semi-final round,
Friday 19 August: Final round (including third place playoff)
Diving
Sunday 7 August: Synchronised 3m Springboard Women
Monday 8 August: Synchronised 10m Platform men - Final
Tuesday 9 August: Synchronised 10m Platform Women – Final
Wednesday 10 August: Synchronised 3m Springboard Men – Final
Thursday 12 August: Springboard women's 3m - Preliminary
Friday 13 August: Springboard women's 3m – Semi-final
Saturday 14 August: Springboard women's 3m - Final
Sunday 15 August: Springboard 3m male - Preliminary
Monday 16 August: Springboard 3m male – Semi-final , Springboard 3m male – Final
Tuesday 17 August: 10m Platform Women - Preliminary
Wednesday 18 August: Platform female 10m – Semi-final, Platform Women's 10m - Final
Thursday 19 August: 10m Platform men – Preliminary,
Friday 20 August: 10m Platform men – Semi-final, 10m Platform men - Final