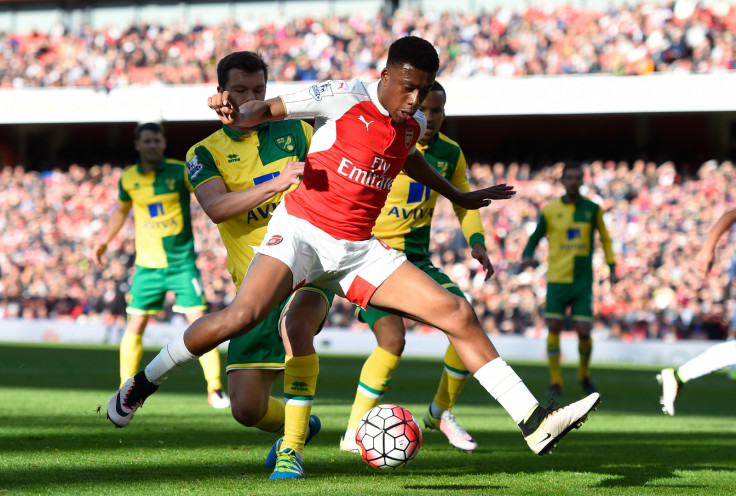 Arsenal starlet Alex Iwobi will not represent Nigeria at this summer's Olympic Games in Rio de Janeiro. Nigeria have been at odds with the Gunners over Iwobi's involvement with the Super Eagles this summer since the end of May when the Premier League club indicated its unwillingness to release the player for international duty.
The 19-year-old broke into the first-team during the second half of the 2015-16 season and Arsene Wenger is keen for him to pick up where he left off next term.
Samson Siasia, the coach overseeing Nigeria's Olympic team, has persistently tried to convince Arsenal to release the player but now appears to have admitted defeat, accusing both the player and his father of breaking a promise made to the national team.
"Alex Iwobi is not coming. I tried to call his father, but he wasn't picking up my calls," Siasia was quoted as saying by Nigeria's Daily Post. "He used to call me frequently when he wanted his son to play for the country, but now that we need his son for the Olympics football tournament, he is not picking up my calls.
"But there is no problem; Alex remains my boy. I love him like my own son, but I am just disappointed that he and his father couldn't keep the promises they made to me."
Premier League-based players competing in Rio this summer are expected to miss the start of the new season with the opening match taking place on 3 August and the final on 20 August.
Arsenal begin their league campaign at home to Liverpool on Saturday 13 August.
Clubs are under no obligation to release their players for the competition with Arsenal's north London rivals Tottenham Hotspur also playing hard ball with South Korea over Son Heung-min's participation in Rio.