Fully dressed with my Team USA shirt, shoes and hat, I appeared to be the only Rio 2016-bound traveller leaving LAX for Rio. But once I arrived at the layover in Panama City, that all changed and the excitement began. The airport started to fill with athletes and delegations from all over the globe. I spotted US Olympian Dara Torres and her family, next it was Nicaraguan NOC president Emmett Lang Salmeron, then athletes and delegations from Africa, Aruba, Cube, Nicaragua, Puerto Rico, Poland and Panama.
As an enthusiastic observer, what struck me most was the camaraderie among the athletes, coaches, and delegates. All from different countries yet greeting each other with smiles and hugs, even if they were meeting for the first time, as it was clear some were.
It was great to be there watching Salmeron meet and greet people as they approached the gates and boarded the plane – talking with everyone – perhaps one of the nicest and outgoing people I have ever seen. It was during this that I overheard a conversation by Torres about a specific US swimmer who she is expecting "huge things" from because they were not rested at the Olympic Trials. What a fabulous insider tip!
Next we landed at Rio Galeao Airport and I couldn't believe my surprise at the sight of an empty immigration line. It was a real jaw dropping moment. An unexpected yet very pleasant surprise matched only by the speed of my bags coming off the turnstile in less than 10 minutes, possibly a record. This took just enough time for a Delta Airlines flight from Atlanta to arrive in which I caught a glimpse of the American swimming team, including Ryan Lochte and many of the men sporting their 'icy' colored hair.
My check-in went smoothly and I awoke early the next morning to begin a busy day of ticket pick-ups for the 28 Olympic events I will be attending. The line to collect tickets from CoSport was another unexpected yet very pleasant surprise (after eight-hour lines during London 2012) but here it took only 18 minutes to get in and out.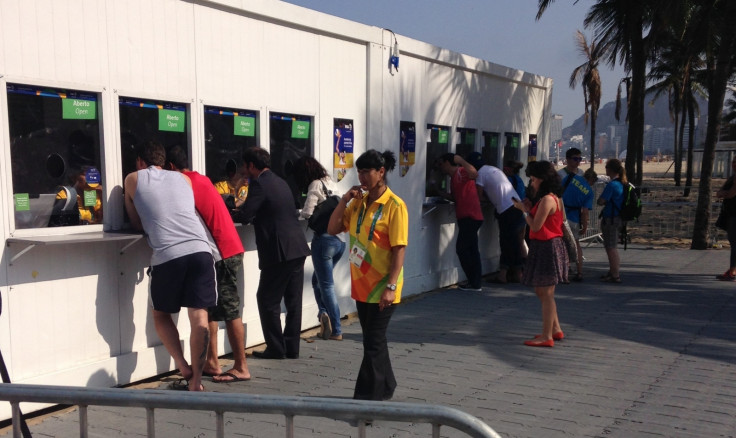 The setting of the conveniently placed Rio 2016 box office was in Copacabana, beneath the soaring beach volleyball venue. It was just as fast, taking longer to print my tickets than waiting in line. This pre-Olympics ease may simply be the calm before the storm, but as of now, I am happy to report smooth sailing on my flights, arrival and ticket collection.
Security here in Copacabana Beach is visible and present everywhere. No sirens but the continuous drive-bys of police convoys escorting dozens of Range Rovers through the streets to military trucks outside the Windsor Atlantica Hotel. The trucks are filled with armed soldiers carrying assault rifles in elevated positions. There is also the ever present Brazilian Navy Type 22 Frigate patrolling up and down Copacabana Beach and anchoring there at night.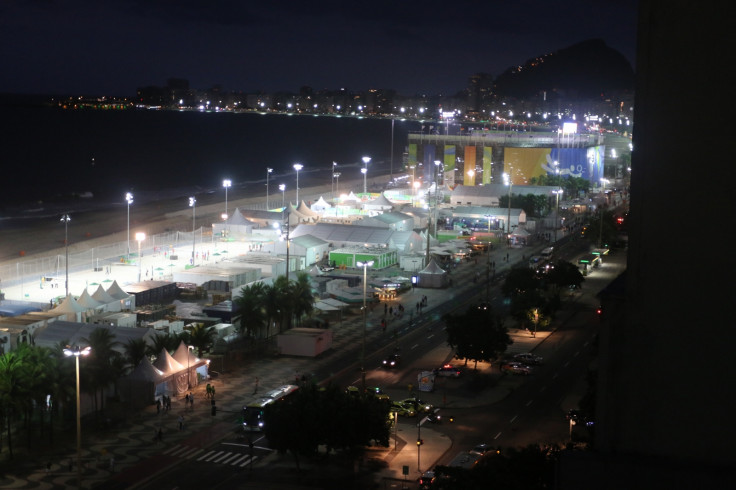 Final preparations are still underway. As late as 1am, work is still being done on the mural paintings at Rio Galeao Airport and, elsewhere, sounds from construction crews can be heard putting together stages and completing exhibitions at Olympic Boulevard.
Last night, as I walked back along Copacabana Beach to my apartment, the lights begin to flash and sequence across the top of the Beach Volleyball stadium – testing out the perfect choreography to celebrate those that will be victorious. And while the final touches are still in progress, it reminds me that it has been a long road to Rio, but they seem ready for the world to watch.
Ken Hanscom is a leading authority on corporate sports ticket programs. He serves as Chief Product Officer at InviteManager, which makes it easy for companies to share events, sports tickets and experiences with their customers while proving the ROI. He can be reached at Kenh@InviteManager.com and @KenHanscom on Twitter.