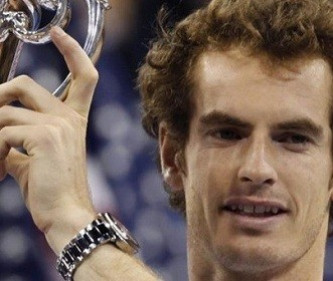 Robbie Williams has revealed he wants tennis champion Andy Murray to front his new fashion brand, Farrell.
The pop star turned fashion designer believes that the Scottish sports start would be the ideal candidate to promote the label's underwear range, The Sun reports.
Speaking at the Glasgow launch of his latest collection, Williams said: "Andy Murray would be a fantastic Farrell man. I would love Andy to wear Farrell clothes."
He added that if the Grand Slam ace was unavailable, then James Bond star, Daniel Craig would be his second choice.
"My own first inspiration for a style icon was Sean Connery in James Bond. Nobody else came close. But if I can't get Andy then I'd go for Daniel Craig.
"I'd love to do a range of underwear. If I could stop smoking, lose 2st and ban chocolate from my diet, I'll pose in them - if I can keep my feet out of the pantry. Maybe this time next year. I'm nearly 40. It's now or never."
The 38-year-old Angels hitmaker also confirmed a possible reunion with Take That for another album.
He told Magic 105.4: "I really hope so. The boys are pleased with me and I am pleased with the boys. There's an open invitation but we will see what the future holds."