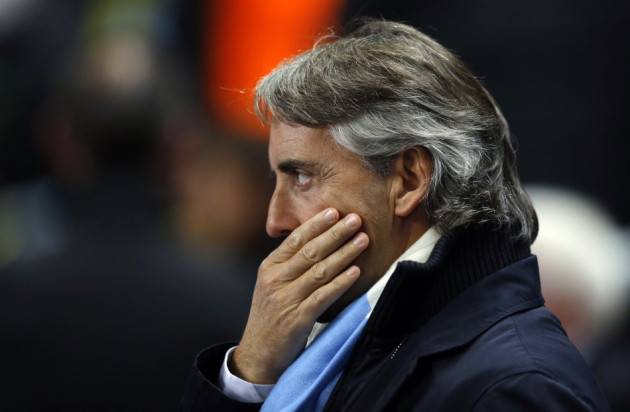 When Chelsea were courting Brazilian manager Luis Felipe Scolari during the European Championships of 2008, all the clued-in pundits were telling us his capture would be a major coup for Roman Abramovich; Scolari had won the World Cup with Brazil, ergo he was a world-class boss. One pundit, however, thought differently. During a broadcast on the BBC, Gary Lineker derided Scolari's World Cup win, scornfully telling the audience, 'My granny would win the World Cup with Brazil.'
Unfortunately this boast was never put to the test; it is wonderful to image Mrs Lineker having a man-to-gran chat with Robinho to curb his party-boy antics, or showing Neymar how to bend his runs off the shoulder of the last defender. But it was easy to see Gary's point. Given the riches at Scolari's disposal during his time in charge of the Selecao, winning the World Cup was no more than par for the course. Lauding him for capturing football's biggest prize would be a bit like congratulating a pupil at Eton on passing his GCSEs.
Many would argue that the same brutal analogy applies to Roberto Mancini at Manchester City. Given the backing of City's billionaire owners, Mancini can afford to buy any player in the world, and, when signings don't come off, simply palm the problem off on to someone else - flogging Emmanuel Adebayor to Spurs at a huge loss would constitute financial disaster at almost any other club, but for City it barely warrants a second thought. With such overwhelming advantages, one might suggest that practically anyone who has played Championship Manager could do well at City.
Granted, Mancini won the league last year. But he didn't exactly blow away the competition, did he? To overcome a Manchester United side so riddled with debt Sir Alex Ferguson had to drag 37-year-old Paul Scholes out of retirement, City required a last-minute goal on the final day of the season, against a Queens Park Rangers side down to 10 men. It may have been dramatic, but it wasn't exactly resounding.
City may still be unbeaten in their title defence, but in Europe they have been abject, having lost two of their three matches and emerged with a lucky draw from the other. Following their failure at the group stage last season, many City fans will be wondering if their manager can cut the mustard in the world's premier club competition. Given that he has never progressed beyond the quarter finals during his managerial career, the question is certainly reasonable.
Mancini's failures in Champions League are all the more damning because Europe should be his natural habitat. We're constantly being told about the Italian's tactical nous, meticulous attention to detail and eye for the killer substitution. But against the best teams, his gameplan keeps coming unstuck; Micah Richards revealed earlier this week that the City players were bamboozled by Mancini's tactical tinkering. Given that City have surrendered leads to Arsenal, Ajax and Real Madrid thus far this season, critics might suggest Mancini's in-game directions are actually making things worse, not better, for his team.
Doubts have also started to percolate Mancini's work in the transfer market. At City he may have bought key performers such as Yaya Toure, David Silva and Sergio Aguero, but they were hardly unknowns when City came knocking. Below this platinum level, Mancini's dealings have been decidedly iffy. Samir Nasri, Edin Dzeko and Aleksandr Kolarov have failed to convince, despite huge transfer fees, while the gaffe-prone Stefan Savic was a throwback to City's 1990s nadir, long before the Abu Dhabi takeover, when the club was competing with Macclesfield rather than Milan.
City's main signing this summer was Scott Sinclair, a winger bought to replace Adam Johnson, who revealed after leaving Manchester that Mancini barely spoke to him during his 18 months at the Etihad. Given the manager's very public falling out with Carlos Tevez last season, and the public strops thrown by Dzeko and other City players, Mancini's man management has hardly been an unqualified success during his time in England. Richards's comments this week hint at a corrosive dissatisfaction within the squad, and the absence of that unconditional respect all the best managers earn from their players.
For all these question marks, it's impossible to argue that Mancini has been a failure at City. Scolari, when he eventually moved to Chelsea, proved that it is perfectly possible to fail when you have billions of pounds behind you. But because Mancini is blessed with charm, good looks and charisma, it is far more natural to compare him to another former Chelsea manager, the man who preceded him as the bright young thing in charge of England's richest club.
Jose Mourinho set the standard for monied football success, and thus far Mancini has failed to live up to it. Mancini may have won the league in his second season, but Mourinho did it in one. Mancini guided City into the Champions League, but Mourinho took Chelsea to the semi-finals in his first season, and never failed to get beyond the group stage. And while Mancini has fostered a fractious squad, Mourinho enjoyed hero status from fans and players during his time in England - casting a shadow which looms large over his Italian counterpart.
Mancini's job appears safe for now. City's Emirati owners have repeatedly backed him, and should they change their minds there are few obvious alternatives; Mourinho is locked down at Real Madrid, Guus Hiddink is managing Anzhi on a salary even City might baulk at, and rising German coach Jurgen Klopp is still building his Borussia Dortmund dream team. But unless Mancini can somehow drag City back into Champions League contention this season, or produce football which lights up the Premier League, the scrutiny and speculation will keep coming back. Given the riches at his disposal, it's only par for the course.