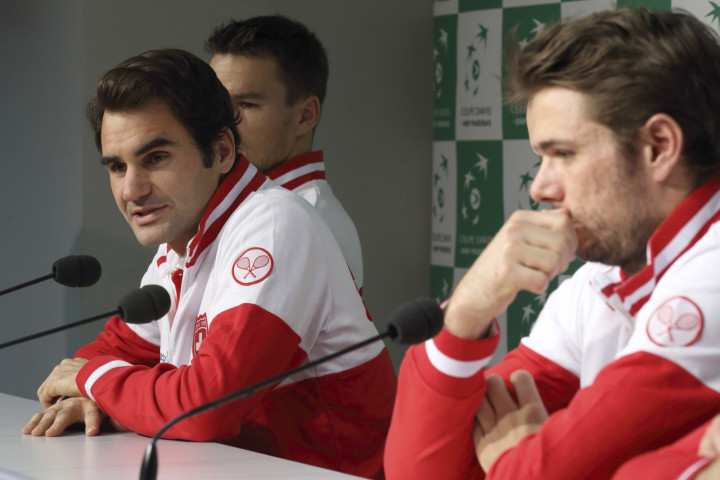 Roger Federer insists relations between himself and Switzerland teammate Stanislas Wawrinka ahead of the Davis Cup final against France are amicable despite the pair's high-profile spat at the weekend.
The Swiss duo spoke after claims that Federer's wife Mirka had heckled Wawrinka during the third set of their ATP World tour Finals semi-final, which the 17-time major champion won on a tiebreak after saving four match points.
The circumstances of the late-night discussion has been blamed for a flare-up of Federer's back injury which eventually led to his withdrawal from the final against Novak Djokovic. It may even disrupt Switzerland's hopes of winning a first ever Davis Cup title this week.
Federer has since said any tension between the two players has eased.
"We had a conversation after the match," Federer said in the pre-Davis Cup draw press conference. "Everything is totally relaxed.
"There was a lot of noise but there are no hard feelings whatsoever. We are having a good time, we are friends, not enemies. It was a heat of the moment situation."
Wawrinka reacted angrily to Federer's wife labelling the Australia Open champion a "cry baby" during the game on Saturday night, appealing to the chair umpire Cedric Mourier while also being heard to say: "She did the same thing at Wimbledon."
But the 29 year old said: "We have no problem together. We spoke about it straight after the match.
"I don't think the umpire was doing a great job in the match. It was quite a mess already. It has become a big deal but for us, it's nothing. It took us five minutes to talk about that."
Meanwhile, Federer's fitness remains a concern after he was unable to practice since suffering the injury.
Federer has won all four Davis Cup singles rubbers on Switzerland's route to the final without dropping a set and is optimistic about his chances of playing in Friday's opening day.
"My back is better than it was Sunday, but not good enough for practice yet," the 33 year old added. "But I'm hopeful. I wish progress would go faster, but it's better than the days before. I will do all I can to get better. I always think positive."