Ronda Rousey threatened to sue sparring partners 'for a million dollars' says Julianna Pena
Julianna Pena suffered her first UFC loss against Valentina Shevchenko on 28 January.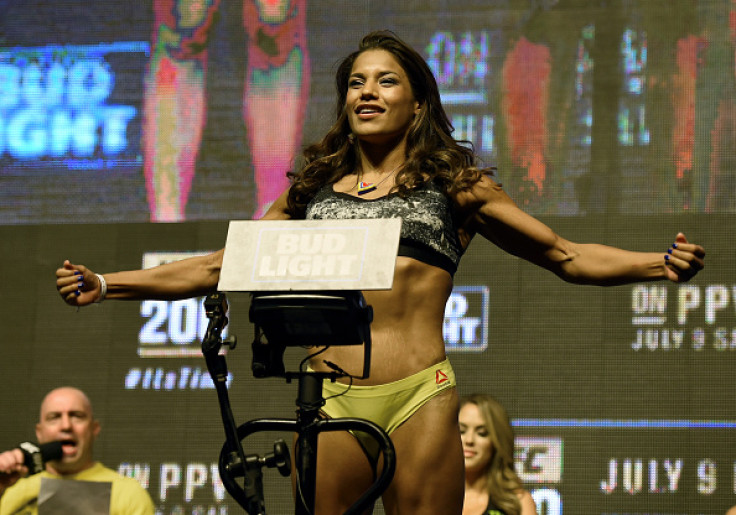 Ultimate Fighting Championship (UFC) star Ronda Rousey threatened to sue her sparring partners if any of them leaked information about her training methods, Julianna Pena said. She also revealed that the California-born fighter also has a clause blocking her partners from hitting her during the training sessions.
Earlier, Raquel Pennington had admitted that she was not allowed to talk about her session with the former bantamweight champion as she was made to sign a non-disclosure agreement.
Pena, who suffered her first UFC loss to number one ranked Valentina Shevchenko at UFC on Fox 23 on 28<sup>th January has slammed Rousey for her actions and says it was one of the reasons she can't take the beating during her fights. The 27-year-old also known as 'the Venezuelan Vixen' has stated her intention to take over as the face of the sport from Rousey, claiming that her time at the top is over.
"She's not allowed to get hit in sparring. These girls have to sign these waivers to say that 'We never hit Ronda, and we'll never talk about this type of training ever and all this stuff, you know? She's not really taking the toll in the fight camp of getting punched in the face legitimately so she doesn't really know what that feels like," Pena said ahead of her fight, as quoted by bloodyelbow.com
"She's a superstar and they don't want to see her get any damage. So, it's like whenever the girls would go hard on her, whenever they'd come forward and start banging it out on her, they'd tell them, 'Hey. Knock it off. Stop it. Don't hit her so hard and then sign this waiver and say that you were never here and that you never punched her. Don't ever talk about how well you did in training and stuff like that because you have to sign this dotted line or else we'll sue you for a million dollars'," she added.
Meanwhile, Daniel Cormier has also dismissed Rousey's chances of ever dominating the sport again following her second consecutive knockout. Rousey, the longest women's bantamweight champion, was returning to the octagon for the first since her first loss against Holly Holm, but lasted just 38-seconds against Amanda Nunes during her bid to reclaim her title at UFC 207.
The UFC men's lightweight champion is a fan of Rousey, but admits that the current crop of women UFC fighters are more complete when compared to the soon-to-be 30-year-old UFC star: "Ronda Rousey is not a complete fighter - and will never be able to keep up with the new crop of women competing in the UFC," Dormier told TMZ.
© Copyright IBTimes 2023. All rights reserved.