England manager Roy Hodgson claims that talks with Tottenham Hotspur counterpart Mauricio Pochettino have progressed well and he is confident that a deal can be done over what is likely to be a busy summer for Harry Kane.
In-form striker Kane, who is the Premier League's joint top-scorer this term with 19 goals, has featured regularly under Pochettino since November 2014. He is expected to play a part in a post-season friendly against Sydney FC in late May as well as a match against Malaysia.
However, this could jeopardise the 21-year-old's chances of making an impact at the U21 European Champions in the Czech Republic, with the tournament set to commence on 17 June.
Gareth Southgate's side face Portugal, Sweden and Italy in the group stages and Hodgson is optimistic an agreement can be reached that would allow Kane, who was influential during the qualifying campaign, to fulfil his commitments without running a serious risk of burnout.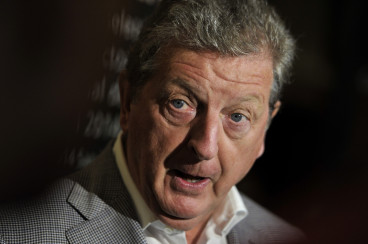 "I had a long chat with Mauricio, it was good to see him. It was the first time I have had a long chat with him since he has been at Tottenham. It was a good opportunity," Hodgson was quoted as saying by the London Evening Standard.
"I am pretty confident that between the club, Daniel [Levy, the chairman] - who I have also spoken to - Mauricio, Harry himself and Gareth they will find a solution to that without any problem at all. It needs to be remembered with Harry he has done all the hard work.
"He has played all those qualifying games which weren't easy to get himself to the finals. I hope they find a solution that everyone is happy with."
Kane vying with Rooney and Welbeck for place in starting line-up
While the ambitious Kane will no doubt be keen to ensure he is able to report for U21 duty in the summer, he is now focused on potentially making his debut for the senior side during its clash with Lithuania on 27 March.
A torn hip muscle sustained by Daniel Sturridge in Liverpool's defeat to Manchester United on 21 March left many hoping that Kane would start the Euro 2016 qualifier at Wembley. However, Hodgson stopped short of guaranteeing him a place in the starting XI as Danny Welbeck also hopes to start alongside captain Wayne Rooney and Raheem Sterling.
"We're very happy with Harry this week, he's done well," Hodgson claimed. "The only thing I can certainly say is he's not in any way damaged his chances of playing in the full senior team. I'm pretty sure, over the course of the next two games, we're going to see him make his full debut.
"People have to wait and see when that is. Whether it's from the start [against Lithuania] or on Tuesday [31 March against Italy in Turin] or coming on as a substitute – people will have to wait and see."