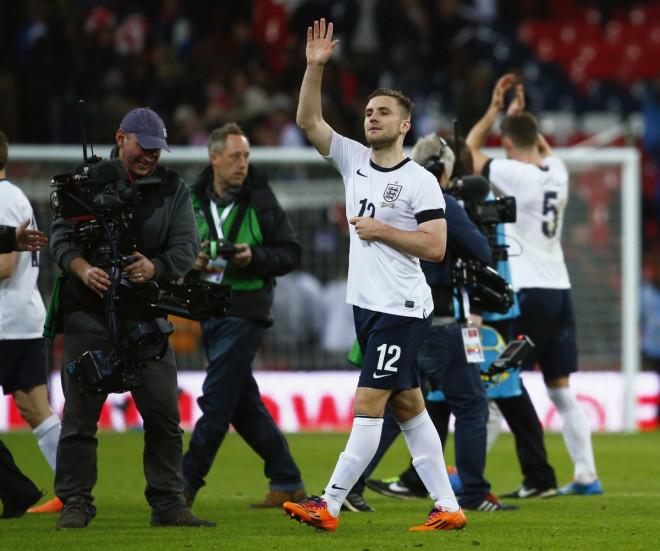 England manager Roy Hodgson admits his World Cup selection dilemma at left back has been accentuated by the performances of both Ashley Cole and Luke Shaw in the friendly win over Denmark at Wembley Stadium.
Cole and Shaw both played 45 minutes in the final game before Hodgson summits his preliminary squad for the summer finals on 13 May as Daniel Sturridge's second half header secured victory.
Leighton Baines was overlooked but is expected to travel to Brazil as first choice at left-back, leaving Cole, who won his 107th cap against the Danes, and Shaw who made his debut, to jostle for the final berth.
And Hodgson admitted: "Both were very good. I don't think you can get me to say anything negative about any of the younger players that came in tonight.
"I wanted to make certain that these young guys got a chance to get out and play. I am sure that Luke Shaw will go back to Southampton very happy with his performance tonight.
"I thought they were both very good. I thought the performance in the first half, Ashley got forward well and Luke came on to take his place and carried on in the same way.
"You've been making it clear to me that it will be a difficult choice at left-back. Leighton Baines didn't even get a look in and I fear in the future you will be pushing me even harder to give you a decision on which player I am going to use and which one will be the understudy.
"There are a lot of matches to be played a lot of matches to be seen. I'll be seeing a lot of Luke Shaw, Leighton Baines and hopefully Ashley Cole over the coming months so there is a lot of water to pass under the bridge between now and 13 May.
"I am not surprised by his performance. I am a fan of Ashley Cole's and he's certainly got my respect. I've watched him in training these last couple of days and he's been unbelievably good and he's unbelievably fit."
While Shaw has thrived in the last 18 months amid his breakthrough at Southampton, Cole has been used infrequently by Jose Mourinho at Chelsea and his appearance from the start against Denmark was his first since January.
With Adam Lallana and Raheem Sterling also impressing, Hodgson is expected to select a squad combining both youth and experience, pointing towards Shaw getting the nod.
"There has been a lot of young players and I think over half of them were under 23 years of age," added Hodgson.
"I think it is obvious that we are looking in that direction but I don't feel under obligation. I refuse to be put under obligation with anything that I ever say.
"The younger players are doing well at the moment and I'll have to make a decision going forward."