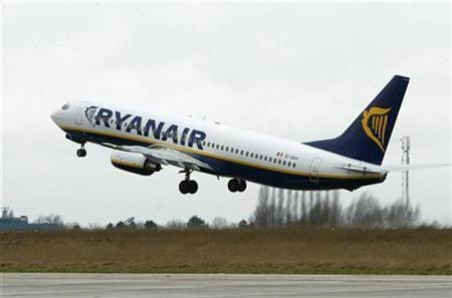 Ryanair lifted its full-year profit forecast after reporting higher-than-expected passenger growth in its key European markets.
Europe's biggest discount carrier said profits for the year ending in March will likely rise to €540m (£461m; $726m) from a previous range of between €490m and €520m. Its three-month profit for the quarter ending on 31 December rose to €18.1m, the company said, thanks to an 8 percent rise in fares over the holiday period and a 3 percent rise in passenger traffic to 17.3m. Total revenue for the quarter rose 15 percent to €969m.
"Our Q3 profit of €18m was ahead of expectations due to strong pre-Christmas bookings at higher yields," said CEO Michael O'Leary in a statement published with the carrier's results.
"The 8 percent rise in average fares reflects our improved customer service, record punctuality and the successful roll out of our reserved seating service."
Fuel costs rose by €81m, a 24 percent increase that slightly outpaced a 22 percent advance for crude oil prices over the same period. Ancillary revenues rose 24 percent to around €13 per passenger while the average cost per passenger, excluding fuel, hit €27 each.
The group said fourth quarter traffic, however, will fall by around 400,000 passengers, or 3 percent, owing to a reduction in capacity the carrier attributes to higher airport fees at Stansted and Dublin airports.
Ryanair shares fell more than 1.2 percent in early London trading to change hands at €5.43 each. The shares have risen 30 percent over the past year.