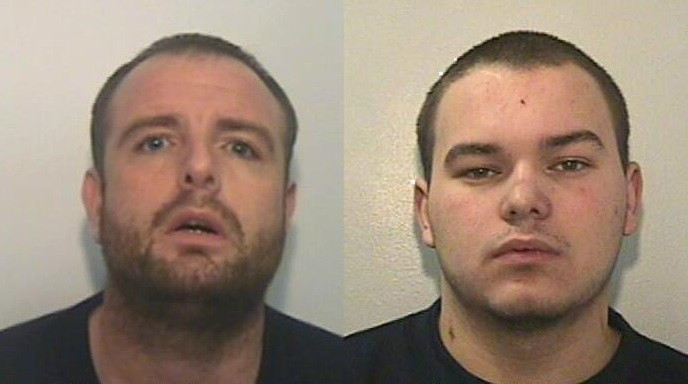 The two prisoners who escaped after a van was ambushed in Salford have been identified as Ryan McDonald and Stevie McMullen.
McDonald, 20, and McMullen, 31, were being transported to court when the prison van was ambushed by three men wearing balaclavas on Regent Road.
The men had ambushed the van in a dark coloured Saab and threatened staff transporting the prisoners with a shotgun. No one was hurt during the incident.
Police said five men - believed to be three ambushers and the two escaped prisoners - then got back into the Saab and drove a short distance before abandoning the vehicle. Two are then believed to have reported to have escaped on motorcycle and the other three ran off Phoebe Street in the Ordsall estate.
One of the men is believed to be in possession of the sawn-off shotgun used in the ambush. The public are advised not to approach either man and if they are seen to call police immediately.
A 28-year-old woman and 24-year-old man have since been arrested on suspicion of assisting an offender at an addresss on the Ordsall estate.
The man was also arrested suspicion of possessing class A drugs and breaching a court order. They remain in police custody for questioning.
McDonald was being transported to Manchester crown court to be sentenced after pleading guilty to conspiracy to commit robbery. McMullen is on trial facing charges of kidnapping, arson, robbery and possession of a firearm.
Chief Superintendent Kevin Mulligan, said: "Two people are now unlawfully at large as a result of this morning's incident and it is our priority to find them as well as identify those responsible for the break out.
"The public should not approach either man and if anyone knows where they are or saw these men escaping I would urge them to contact police immediately.
"There are a number of police scenes across the area and there will be a heavy and visible police presence in the coming hours and days but the public should be reassured rather than alarmed by this.
"We have specialist teams now dedicated to investigating the incident and finding all involved and I would like to send a message to those people that there is no hiding place and we will find you."
GEOAmey, the operator of the prison van has said it is co-operating with police. A spokesperson said: "We can confirm that on Tuesday 30th April at approximately 9:00am a prisoner escort vehicle was targeted on the A57 Regent Road, Manchester, which resulted in the escape of two people from custody.
"We are liaising with Greater Manchester Police regarding this incident."